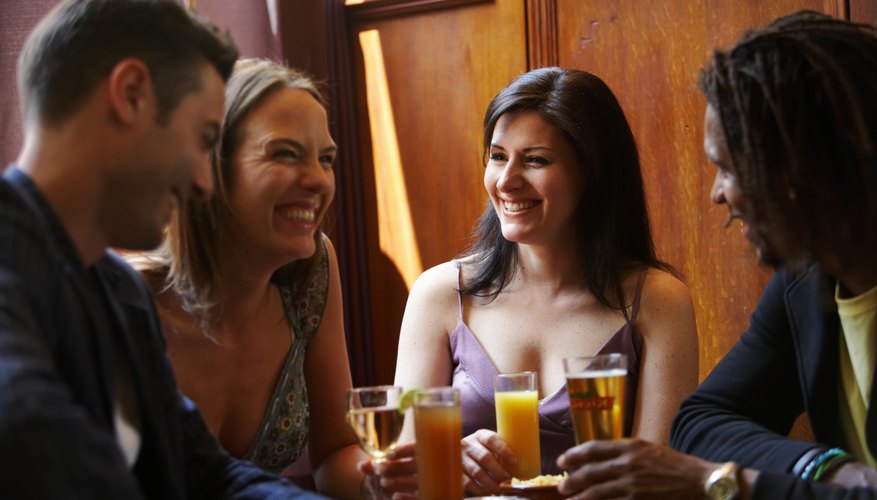 Make Sure You're Ready
If your self-esteem is low, or you're dealing with emotional baggage following a divorce or the death of a partner, spend some time focusing on your mental, emotional and physical well-being before you attempt to date. Eat healthily and participate in regular exercise. Take up a new hobby or set yourself an achievable goal, such as running a marathon or raising money for charity. The happier you are as an individual, the more comfortable you will be when it comes to meeting women.
Be the Best Version of Yourself
When you want to meet a woman, go to places that you enjoy and where you feel comfortable, according to the PsychCentral website. For example, if you don't like loud clubs, don't start frequenting them just for opportunities to meet women. Go to places where your comfort level is high -- perhaps a neighborhood bar or sporting event. Focus on having a good time instead of getting stressed about talking to potential dates. Relax and enjoy yourself. Smile and make eye contact with women. Simply be yourself because it's pointless putting on an act that you won't be able to sustain in the long term. However, be the best version of yourself that you can be. Leave your worries at home and remember that dating is supposed to be fun. The more happy, comfortable and approachable you are, the more likely it is that women will want to get to know you.
Just Breathe
If you see a woman who appeals to you and want to start a conversation with her, take a moment to compose yourself. Take a few deep breaths, focusing on your breathing instead of any feelings of anxiety. This simple relaxation technique will help to clear your mind and ease any tension in your body. It may help you to repeat a positive affirmation in your head before you approach the woman. Say something like "I am a strong person and I can do this." This is also a good technique to practice at home whenever you have moments of self-doubt or insecurity.
Practice, Practice, Practice!
Most things get easier over time, and talking to women is no exception. The more you do it, the more comfortable you will become. Try to keep conversation lighthearted and fun, advises psychologist Jamie Long in the Psychology Today article, "10 Dating Dos and Don'ts." Coming across as needy, clingy or unstable won't do you any favors. Most people love to talk about themselves. Show you are a good listener by asking a woman questions about herself -- and then really listening to her answers. Talking about previous partners is strictly off-limits at this stage. Stick to easy conversation topics like hobbies, work and what you like to do for fun.
View Singles Near You