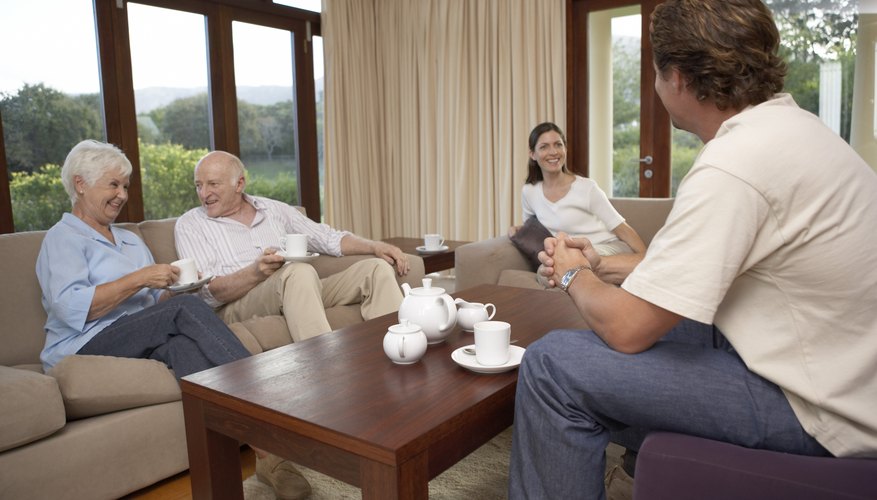 Early Days
Early in your relationship, you may wonder if it's appropriate to give gifts to your boyfriend's parents at all. If you feel a gift is warranted, keep it small. You might give a gift that straddles the line between card and present, such as a handwritten or designed card on elegant stationary or a poem that's meant to be displayed. Flowers and candles are appropriate options, as are any "stocking stuffer" gifts during winter holidays, such as ornaments. Food items such as wine, candy or recipe-ingredient gift packages are appropriate choices. If you're traveling to see his parents, bring something special from where you're coming from, such as maple candy from Vermont or cheese from Wisconsin.
A Growing Relationship
As your relationship with your boyfriend progresses, so will your familiarity with his parents. At this stage in the relationship, give gifts that are a bit more expensive and require a bit more knowledge of his parents' personalities and interests. Books you'll know they'll be interested in, CDs of their favorite music or gift certificates to stores or restaurants you know they'll enjoy are thoughtful but not extravagant gifts. Give decorative items, such as wall hangings or pottery, or unusual imports and items you pick up while traveling or in specialty markets. You might opt for small accessories, like scarves or ties. A nice picture frames, with or without a picture of you and their son in it, offers a simple but thoughtful gift.
Getting Serious
As you and your boyfriend move into the realm of a serious, long-term relationship, it's appropriate to give gifts to his parents in more like those you would give to your own parents. You might even discuss with your boyfriend the idea of the two of you giving a gift form both of you. This might include new furnishings or electronics or gift certificates for weekend getaways, massages and spa treatments or upscale gourmet restaurants. You might give his parents equipment or tools related to their hobbies, such as a new golf club or yoga mat.
Anytime Action
If you're visiting over the winter holidays or spending time at the family summer cabin, bringing games to play can offer a fun gift for everyone. Card games and board games offer time together getting to know each other with a fun focal point. Early in your relationship, choose easy familiar games everyone can enjoy. Later, you will know more about what your boyfriend's parents interests are and what kinds of games they might like.
View Singles Near You