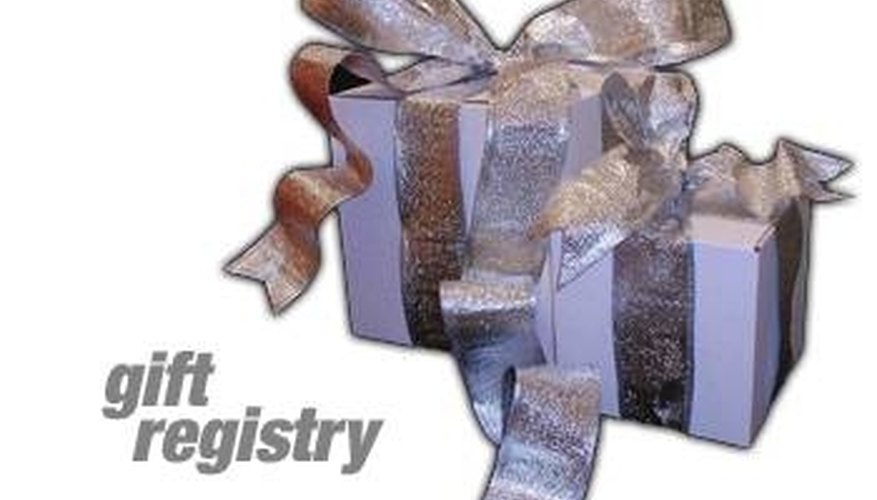 Gift Registries
Gift registries are handy tools that allow the gift recipient to graciously ask for those gifts he or she really wants or needs, and allows the gift giver to purchase something that he or she knows will be appreciated. Gift registries are most often used by people who are engaged to be married or are about to have a baby. The registries themselves are not maintained by the gift recipient but rather by the company hosting the registry; usually a major department store.
Registering for Gifts
The process of registering for gifts varies depending on the store in which the recipient(s) are registering; however, there are some similarities. In most cases, the recipient must first enter her personal information into the store's computer, including her address, the date of the special occasion, and any other notes of importance.
Next, the person registering is given a bar code reader. When the person registering sees an item that she would like to get as a gift, she uses the bar code reader to record it. When she is finished choosing her desired gifts, she returns the barcode reader to the customer service desk, where the information contained on the reader is uploaded into the computer under her name.
Stores that do not have barcode readers will instead provide the person registering with a list of common items pertaining to their situation, such as silverware or household appliances in the case of an engaged woman. The gift recipient then fills out the list by hand and returns it to the customer service agent, who must enter the information into the store's computer by hand.
Reading a Registry
Once a person has registered for gifts and those choices have been uploaded into the computer, her friends and family can view the list in order to choose those items that she might like for her upcoming showers or parties. For example, expectant mothers often register at Babies R Us before a baby shower. The hostess of the baby shower will then send out invitations to the shower, urging the guests to look at the mother-to-be's registry at Babies R Us and to pick out something from her list to purchase for the baby shower.
The guest will then travel to Babies R Us and use the computer (or a customer service clerk) to print out the expectant mother's list. Once the guest chooses an item, she presents the list to the check out clerk. The clerk will then make sure that item is removed from the list so that the expectant mother does not receive duplicate items.
Usually, registries can be viewed online, allowing the guests to order gifts online and allowing the mother or bride to change the items on her list as well.
Resources
View Singles Near You