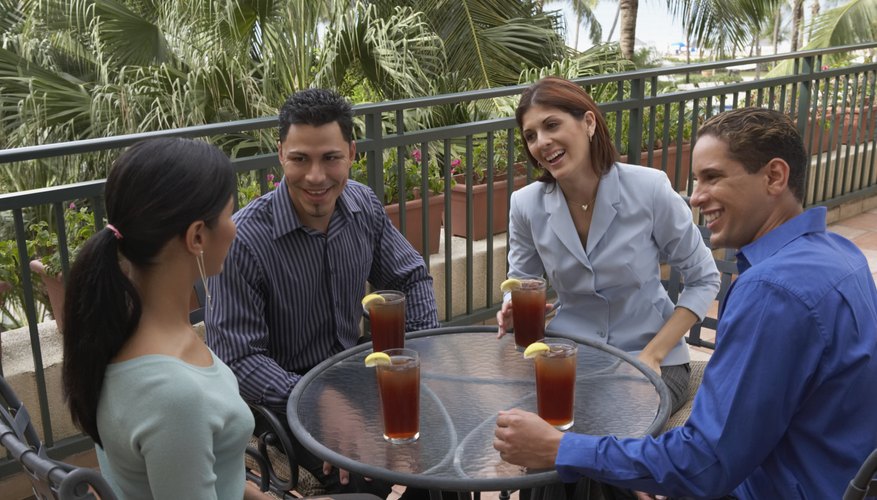 Game Night
Whatever your age, on your next double date you could gather at one person's house or apartment with a set of board games or a deck of cards and plenty of snacks and refreshments. Have fun getting into a competitive game of cards or Monopoly, or a team game such as Pictionary or Taboo. You could also play a board game to get better aquainted, such as Loaded Questions, in which players have to guess who gave what answer to a given question.
Ice Skating
Ice skating works well as a double dating activity in the winter, and it's great for any age. If you don't live near a park with an outdoor skating rink, see if any local colleges or high schools allow guests to skate on their rink on weekends. You could even try to play a bit of two-on-two ice hockey. Make plans to go out for coffee or a warm beverage afterward.
Tubing
In the summer, you can go tubing down a river for a leisurely, sunny afternoon. Inquire about inner tube rentals and tubing routes at a local canoe outfitter, and plan to have a picnic lunch in a sunny spot once you get out of the river. Alternative summer river outings for active individuals include canoeing or kayaking.
Winery Tour
If you're over 21, consider taking a short road trip to a nearby vineyard or winery for a tour and tasting. Or visit a local brewery instead. If you can't find a nearby winery or brewery, host your own tasting at home. Ask a customer service assistant at your local wine shop to help you choose a variety of wines for a tasting. Or purchase a variety of microbrew beers instead.
Outdoor Music Festivals
Get tickets for four to an outdoor music festival packed with bands and performers you'll all love. The eclectic line-up of most music festivals ensures that each person in the group will be thrilled about at least one performance. Plan a fun road trip to get to and from the festival.
Resources
View Singles Near You