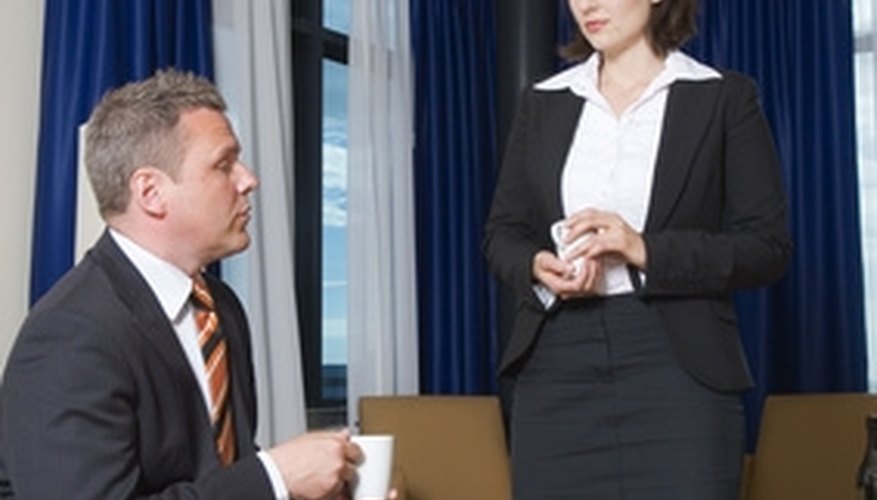 Catch her gaze from across the room to indicate you would like to meet her. Hold her gaze for a few seconds to see if she looks away quickly. Watch to see if she looks back at you a second or third time after looking away. Approach her once you have met her gaze again. If she avoids further eye contact, then it is best to start searching for someone new. Look into her eyes once you approach her and introduce yourself. Sit next to her, but not close enough she could hear you whisper. If she is not responding back in a flirtatious matter, do not be overbearing.
Opening lines initiate the start of a conversation and most people do not expect much from them. Asking about the weather, restaurant or bar will let her know you are interested in having a conversation. Ask questions such as "What are your favorite hobbies?" or "What do you do for a living?" to get an idea of the type of person she is. Avoid closed-ended, "yes" and "no" questions throughout the conversation. Listen to her carefully to avoid being clueless if the subject resurfaces. Avoid negativity that includes any current problems you have going on at the time. Do not be boastful of your accomplishments, too serious or shy.
Use humor in your conversation to break the ice. Keep the conversation positive, light and upbeat. Compliment her, but not too excessively. Notice if she moves closer to you or keeps her distance. If she does not seem relaxed, then it may appear she is not interested. Watch her expressions to determine whether they are sincere. Listen to her words to determine whether she is flirting or is just being nice. She is flirting back with you if she is touching you, fidgeting or avoiding eye contact. The conversation may also consist of whispering, personal questions or laughter if this is the case.
Many encounters will not result in something serious or even a date. Unless you had an intense connection, she may not give meeting up with you again a second thought. Let her know you are interested in seeing her again if you found a connection through the conversation. It is likely that she may feel the same way. The only way to find out if she wants to see you again is by simply asking.
View Singles Near You