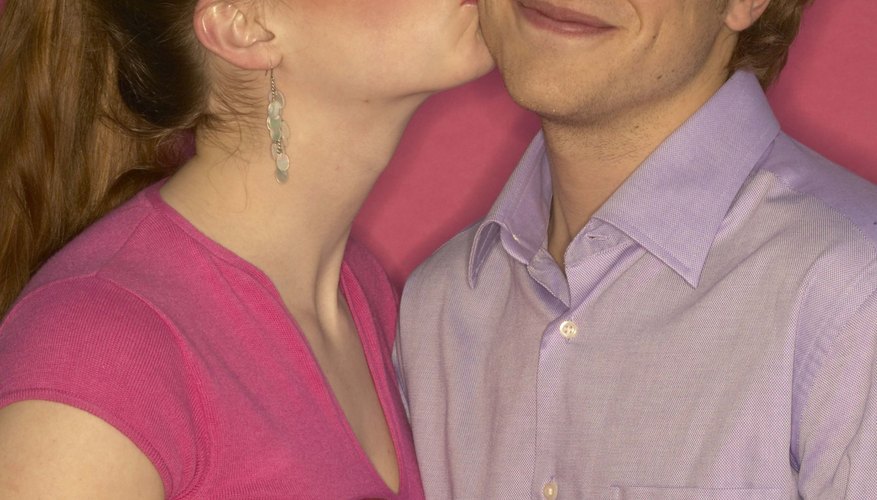 Something Different
A romantic Valentine's meal is a good time to try something out of the ordinary -- but men can be very set in their food tastes. Create a dish that is both familiar and exotic. Use a base ingredient that you know he likes and spice it up. Chocolate pancakes are a great breakfast surprise for Valentine's Day morning. If he likes chicken on an ordinary night, make a rich dish of chicken, bacon, avocado and camembert or other unusual ingredients.
Special Occasion Foods
One way to make a Valentine's Day meal feel special is to invest in elements that are a little more expensive or exotic than usual. If your sweetheart is a meat lover, spring for a premium cut of steak and pair it with an expensive wine. Or infuse his favorite pasta with gourmet truffle oil. No long and complicated cooking is required -- the quality of the ingredients will make the meal memorable.
Surprise Desserts
Instead of giving a gift during a Valentine's meal, let your sweetheart discover his Valentine's present for himself. Small gifts can be placed inside of a cake or concealed under a dessert plate. Love notes can also be tucked away under a pile of his favorite homemade cookies. These small surprises are a perfect ending to a romantic dinner.
Healthy and Delicious
Healthy doesn't have to be boring. Healthy meals are very appropriate for a romantic occasion because they show that you care about your partner in the long term. Making dinner for two allows you to control portion size. Smaller portions are healthier and also allow you to use more expensive ingredients. Seafood skewers with olive oil and steamed vegetables are both heart healthy and delicious. Filet mignon with mushroom wine sauce is low in fat and carbs and very flavorful.
View Singles Near You