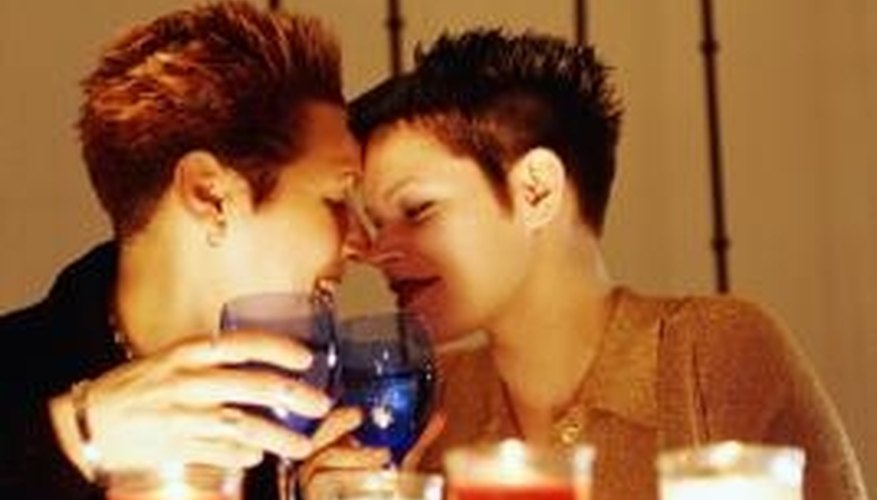 Candlelit Dinner at Home
Plan a candlelit dinner at home to surprise your loved one. Make sure you have the house to yourself. If you have children, hire a babysitter to watch your children and coordinate with any housemates. Set up the ambiance in the room you will be dining in. Clean up the area, dim the lights and consider lighting candles on the table. The feel of the room is most important for the romantic dinner. Set the table before bringing your loved one to dinner, and have food prepared. Start with a light appetizer, followed by a full meal and your loved one's favorite dessert.
Dinner Beneath the Stars
Surprise your loved one with a romantic dinner beneath the stars. Set up a comfortable area to dine outdoors, with a small table and two chairs. Lay a clean tablecloth over the table and place a lit candle in the center. Prepare a dinner you can have sitting at the table when your loved one arrives. A side dish, such as soup or a salad, will substitute for an appetizer. Have a dessert prepared and hidden from your loved one; when you finish your meal clear the plates and surprise her with it.
Dinner on the Lake
Bring your loved one to a local lake and present her with dinner. Many lakes allow you to rent a paddleboat; bring a packed dinner and present it to your loved one when you are in the middle of the lake. Foods that keep well cold, such as pasta salad, are best for a picnic on the lake. For convenience, bring dinner in one container that the two of you can share as you dine. Have a simple dessert, such as cupcakes, ready for when the two of you finish eating. A bottle of wine or sparkling cider will work well as a drink for the evening.
Indoor Picnic
Prepare an indoor picnic for your loved one. Ensure the house will be empty, sending children to a babysitter or friend's house and housemates elsewhere for the night. Lay a blanket in the middle of your living room floor and dim the lights around the area. Lighting candles throughout the room will help set a romantic air. Pack a picnic meal within a basket and leave it sitting in the middle of the blanket when your loved one arrives. Sandwiches, salads, breads and fruits are all ideal picnic foods.
View Singles Near You