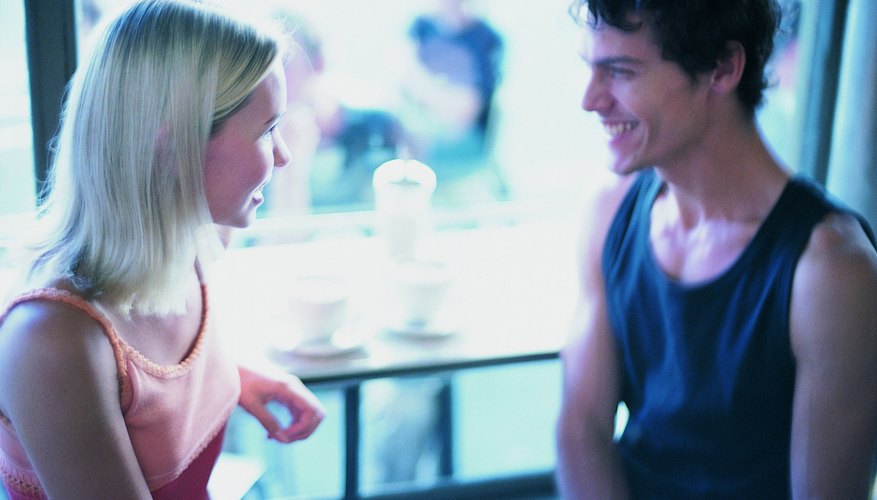 Step 1
Approach women with confidence. Avoid the embarrassment that often arises from rushing into conversations unprepared. Give yourself a mental pep talk before making the first move with any woman. This helps you gain the focus necessary to initiate engaging conversation. Understand that giving less than your best can yield unwanted results and even destroy your confidence to try with other women.
Step 2
Make the women come to you. Find clever ways to attract attention without appearing desperate. Examples include wearing t-shirts with bold slogans, or stating interesting opinions about current events. Whether you attract women that share your good looks, devilish charm, or appealing intellect, finding signals to draw them closer to you places you at an advantage. Capitalize on this by holding their attention once it's already been extended to you.
Step 3
Know when to dispatch a scout. Sending in a "wingman" can help you survey the attitudes and likes of potential dates. It can also help you distract the rest of the "pack," making it easier for you to focus on select individuals. Use your wingman to win over women, or as an example of "why you're not like other guys." Select a friend that is comfortable with taking direction, but knows how to think on his feet.
Step 4
Pepper your conversation with thoughtful compliments. This doesn't include using one-liners from your favorite macho movies, unless this is your angle. Realize that well-placed compliments can make women want to continue talking to you. They can even prevent awkward silences and make them forget about other verbal slip-ups. Perform quick, but careful observations to reveal the best types of compliments to use with each woman. For example, praising an uncommon accent can bring a smile to a traveler's face.
Step 5
Focus on active listening during your conversations. This includes nodding when appropriate and interjecting with relevant responses and observations. Avoid making initial conversations about yourself, as this can make you appear arrogant. Give awoman your undivided attention, even if it's only a temporary tactic.
Tip
Finding ways to make a woman laugh or feel good about herself can quickly elevate your status with her.
Warning
Avoid making crude jokes or using harsh language during your initial conversations with women.This behavior could prove costly with potential dates.
View Singles Near You