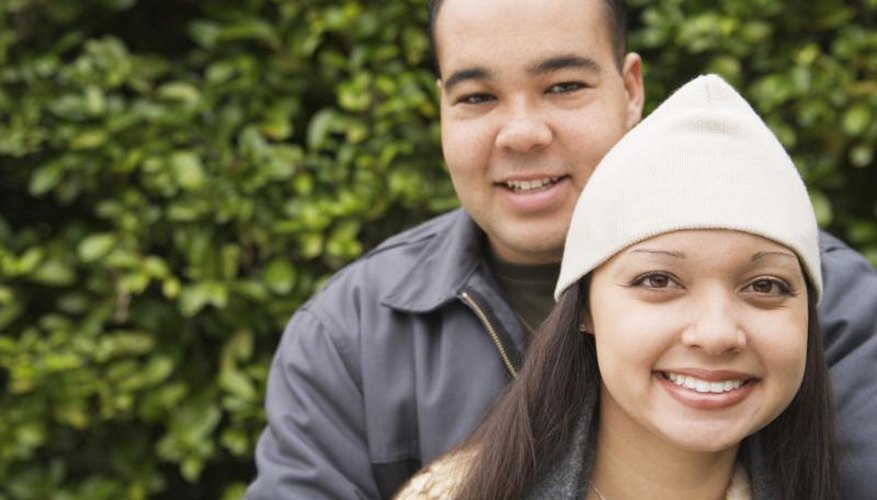 Tells the World
When he introduces you to family members and friends who mean the most to him, as well as expressing an interest to meet your family and friends, these are both good indicators that he's falling for you. Public displays of affection are often a telltale sign he wants the world to know he loves you. Some men are hesitant to show public displays of affection, but when he puts his arm around you in public or openly holds your hand, he's announcing to the world that you are a couple and that he's feeling protective over you.
Invests His Time
When a man loves you, he wants to spend time with you; he doesn't push you aside to spend all of his free time with his friends. He may be busy with work, school, family or other commitments, but when he truly loves you, he spends time with you. A man who is in love has no qualms about helping you when you need it, like when you require cold medicine from the drug store, a drive to the doctors or even if you have a flat tire that needs changing.
He Loves You Not
Certain signs read loud and clear that he might not love you, or be that into you, especially when all he can talk about is his ex. Talking continually about his former girlfriend or spouse suggests that he has unresolved issues or still has feelings for her. When he tells you he's not ready for a relationship, then take his word on it -- he probably does not want one. Love does not require that he share his smartphone or tablet passwords, but if he is covertly secretive and does not allow you to go near his phone, his actions might suggest he has something to hide.
View Singles Near You