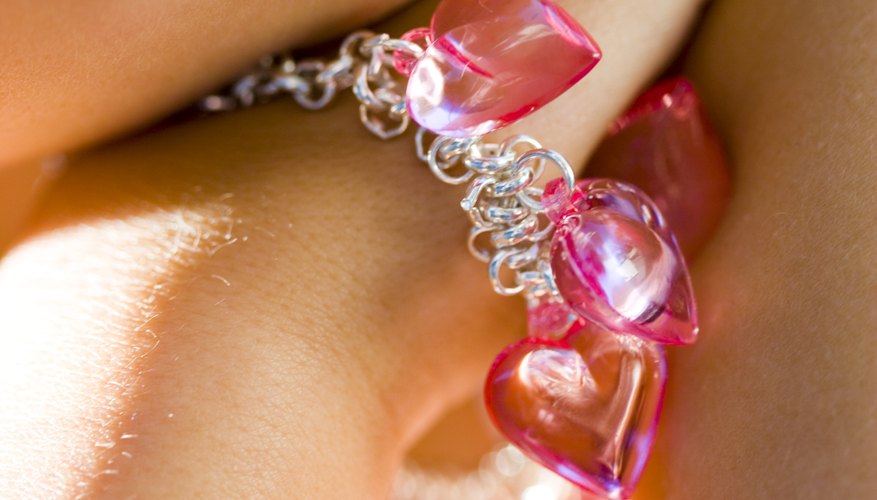 Nature
Create jewelry using elements of nature for a romantic appeal. Create a beaded necklace using natural gemstones such as moonstone and rose quartz, and embellish with beads and pendants with images of romantic flowers such as roses and carnations. Purchase miniature silk roses, attach them to a small, gathered piece of lace, and attach a bail to create a three-dimensional floral pendant. Alternatively, make a piece of jewelry using gemstones in earth-tone colors such as brown, green and tan, and add findings, beads and charm such as leaves and trees for embellishment.
Victorian
Create vintage jewelry inspired by the Victorian era. String a necklace using white or pink pearls and attach a Victorian-style pendant to the front. Make a white or cream-colored lace choker using flat lace ribbon with a metal clasp or button closure in back. Embellish the choker by hand-stitching small pearl beads onto the lace and attach a romantic cameo pendant in front. Alternatively, you can create Victorian Gothic pieces of jewelry by using black lace and deep jewel-tone gemstones such as garnet or amethyst.
Hearts
Look for heart-shaped jewelry findings such as charms and pendants in a variety of styles including modern, cloissoné, filigree or jeweled styles to embellish handmade necklaces and bracelets. String a necklace using heart-shaped beads, made either of glass or of natural gemstones. Create a charm bracelet using heart-shaped beads and charms. Use romantic colors such as red and pink, found in garnets and rose quartz, to string a necklace or bracelet and add a large heart-shaped gemstone pendant as a focal point.
Art
Draw inspiration for your jewelry-making from romantic art movements throughout history. Use deep, jewel-toned Renaissance-era inspired colors of bead to string a necklace, and embellish with pendants with Pre-Raphaelite art images. Search for findings with sinuous curves and organic forms such as twisting vines, leaves and scrolling floral patterns to create an Art Nouveau-inspired piece. Gemstones such as garnet, amethyst and amber will add to the romantic and artistic flair of any jewelry piece.
References
Resources
View Singles Near You