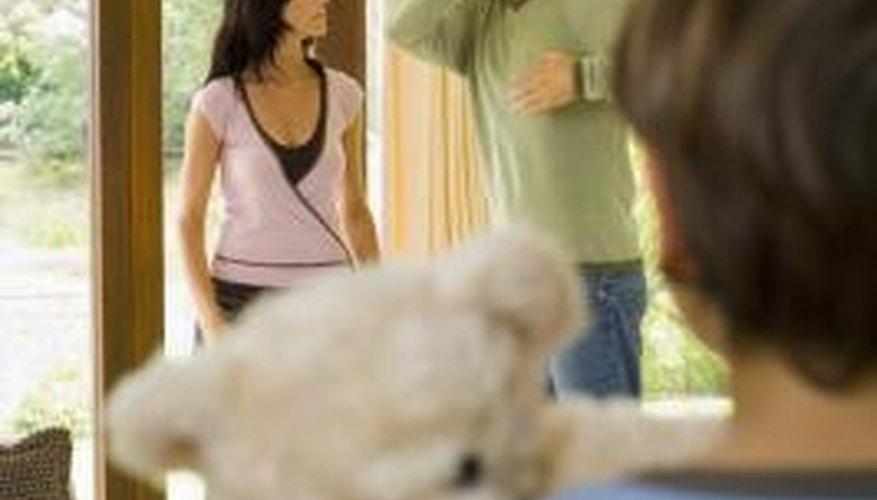 Physical Effects
Many people identify physical abuse as the markings left on a woman's body after a man hits her. These marks can appear in the form of scratches, bruises, bleeding or swelling. Although these marks are the easiest to identify, physical abuse may cause damage that is less obvious. Women may experience internal bruising, bleeding, broken bones or even arthritis due to the injuries. For women who do not seek medical attention, these physical effects may become life threatening.
Mental Effects
Mental issues may also stem from the result of physical abuse. The result of direct head trauma or the emotions that occur following the abuse may trigger these mental issues. Depression or post-traumatic stress disorder may occur in abused women in the form of flashbacks, nightmares, anxiety and thoughts of suicide. Stress from the abuse may cause gastrointestinal issues, ulcers, elevated blood pressure or heart disease.
Effects on Others
People who witness or hear a man hitting a woman, such as children, may also experience the results of abuse. Children may begin to act out with behavior issues or suffer from anxiety or depression. These effects may occur at home or in social settings such as school or daycare. The child may become physically afraid of the abuser or have similar mental effects of the abused person, such as nightmares or flashbacks. Children who witness physical abuse may also need counseling or medication.
Treatment
To receive adequate treatment for physical abuse, a woman must leave the presence of the abuser. There is counseling available for women who experience mental issues as a result. It is important to seek medical attention right away if you are experiencing physical pain or markings because of the abuse. Some victims may need to undergo corrective medical procedures or take medication as a result. Victims may contact the National Domestic Abuse Hotline for information and places to seek help at 1-800-799-7233.
View Singles Near You