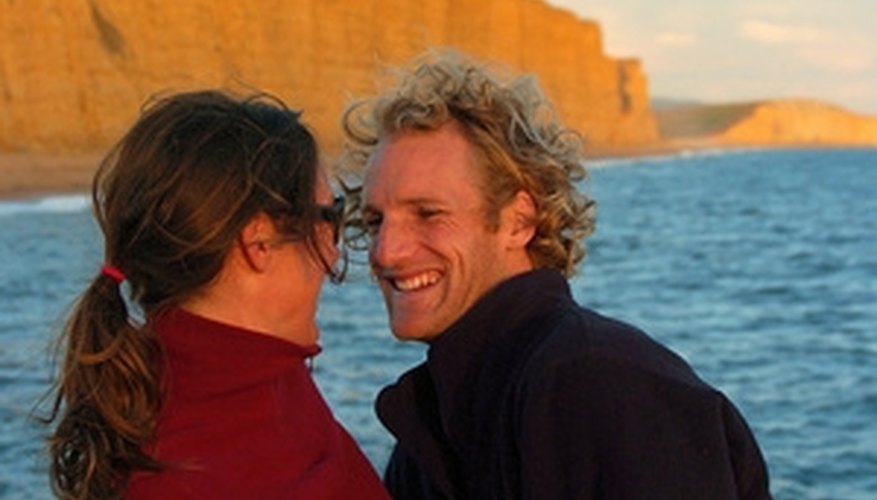 Exude confidence. Low self-esteem is extremely unattractive to men. Instead of acting clingy, develop your own interests and showcase that you have a mind of your own. If you need to work on your self-esteem, try delving into new hobbies. Meet new people, work out more, eat nutritious foods -- Anything that will boost your confidence so that you won't need other people to boost it for you. If you are all together in a group, enjoy the company instead of keeping one eye on him at all times. Enhance your best features by dressing in a way that highlights your toned shoulders, trim legs or tiny waist.
Don't channel other people. Reeling your guy in only to change your personality once you start dating is deceptive. Take advantage of meeting somebody new by improving a character trait you're not happy with, but don't fool the guy by being completely fake.
Act interested. Instead of being nervous that he won't be interested back, take a chance and flirt a bit. Always remember that you can never go wrong with smiling.
Cater to his ego. Offering an occasional, genuine compliment will boost his confidence. Find out what he's interested in and have a conversation. If you honestly can't stand something he loves, turn your differences into a healthy debate.
Decline a date gracefully. If you're actually busy on a certain night, don't generalize by saying, "I just have a lot of stuff going on." Instead, maturely tell him that you can't go to dinner because you have plans with your cousin, best friend or roommate. If you seem like you're skirting around spending time with him, he'll either give up entirely or try too hard to get your attention.
Tip
Make sure the guy you have an eye on doesn't already have a girlfriend. In these cases, nobody wins.
View Singles Near You