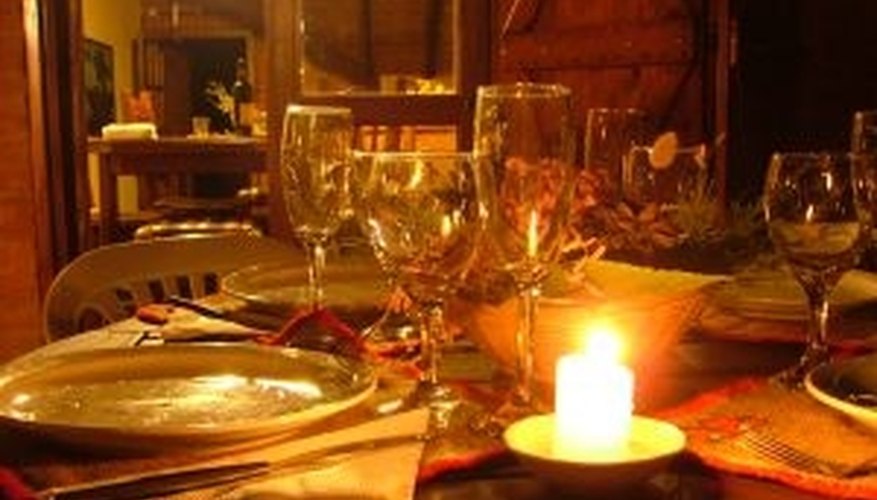 Plan the food menu and then prepare the food. If you do the cooking yourself, make sure you have all the ingredients handy and that you have plenty of time to prepare the food. If you do not like to cook, do not fear. You can order many delicious and inexpensive dishes from your local deli. As you are preparing or ordering your food, don't forget something sweet and tempting for dessert and a nice drink (wine or non-alcoholic sparkling juice) that the two of you can share.
Plan the location of the dinner. You could plan an inside meal at your own dining table or choose a cool location, such as the beach for a romantic picnic dinner. Decorate your patio or balcony for the taste of the outside with the luxuries of inside close by. Or, head to your favorite parking spot and watch the sun go down. As you are planning the location, keep in mind the weather if you are thinking of choosing an outside locale.
Prepare the tools and accessories you will need. This will include such items as a decorated table, chairs or a blanket for sitting, table cloth, candles, plates, spoons, forks and napkins.
Purchase a small bouquet of flowers to give to your date or pick some wildflowers if they are in bloom.
Make sure you have some soft music to play via some sort of radio, MP3 player or whatever electronic device will work in the location you choose.
Dress the part. You don't necessarily have to wear a suit, but you need to dress a little nicer than usual to show how much the dinner and the date means to you.
Things You Will Need

Food
Wine or non-alcoholic drink
Table
Chairs or a blanket for sitting
Table cloth
Candles
Plates
Flowers
Soft music
Tip
Be sure that your date is free for the night you choose. Don't just assume she is; actually ask her out as if this was a first date.
Warning
Romantic dinners may lead to romantic liaisons. Be prepared for these as well.
View Singles Near You