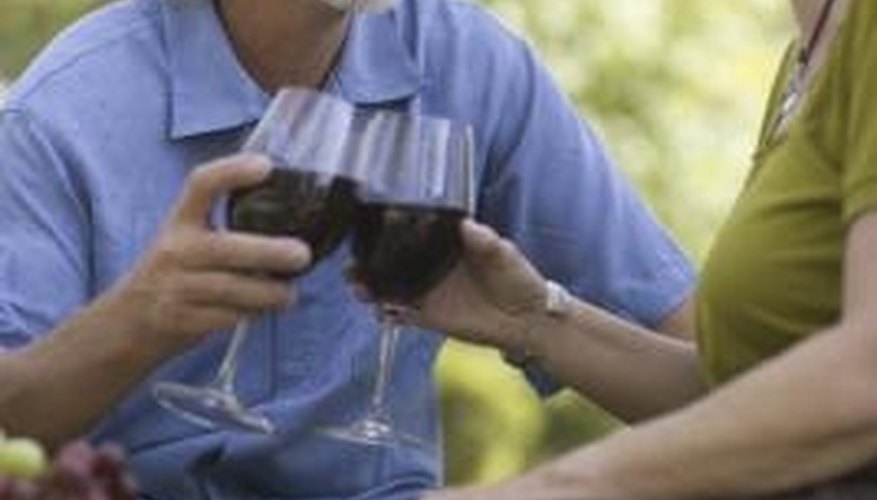 Main Dish
While fried chicken is a staple of picnics throughout the seasons, it isn't a particularly healthy choice. An easy alternative main course would be a sandwich. They are lightweight, portable and won't spoil easily. Choose a lean meat that is relatively low in calories, like turkey, roast beef, ham or chicken breast. Vegetables like tomatoes, lettuce and cucumbers add crunch, color and flavor without too many extra calories. If you and your picnic date desire condiments on your sandwiches, use packets of mustard or mayonnaise that is either low fat or fat free. Avocado also makes a healthy addition to your sandwiches.
Side Dish
Potato salad and cole slaw are other popular food items found at many picnics. They are portable, but can spoil if left out too long. However, an abundance of mayonnaise adds lots of extra calories. An alternative side dish could be a pasta salad with fat-free Italian dressing. Simply purchase a box of whole wheat shells, rotini or penne. Cook according to package directions, drain and rinse with cold water. Put the pasta in a container with a locking lid and add one bottle of fat-free Italian dressing. Add your favorite vegetables. Broccoli, cauliflower, grape tomatoes, cucumbers and mushrooms all work well. Mix the ingredients so that the dressing covers most of the vegetables and pasta.
Beverage
Wine is the beverage of choice for many picnic goers. While wine does have its health benefits, you and your date may not desire an alcoholic beverage during a "healthy" picnic. A good alternative would be a reduced-sugar fruit juice. Apple juice, grape juice or cranberry juice all work well. If you would like to make the juice "sparkling" add a shot or two of club soda or a diet lemon-lime or citrus soda to the juice.
Dessert
A romantic picnic wouldn't be complete without a sweet treat to end the meal. However, if you're trying to eat a healthy picnic, that eliminates many popular desserts like cookies, cakes and brownies. Easy alternatives perfect for a romantic fall picnic are apples, grapes, strawberries and kiwis. Fall is the peak time for apple picking, and there are many varieties to choose from. Grapes and strawberries are easy to transport in small bags or containers. Be sure you've washed all your fruit prior to leaving your home.
References
View Singles Near You