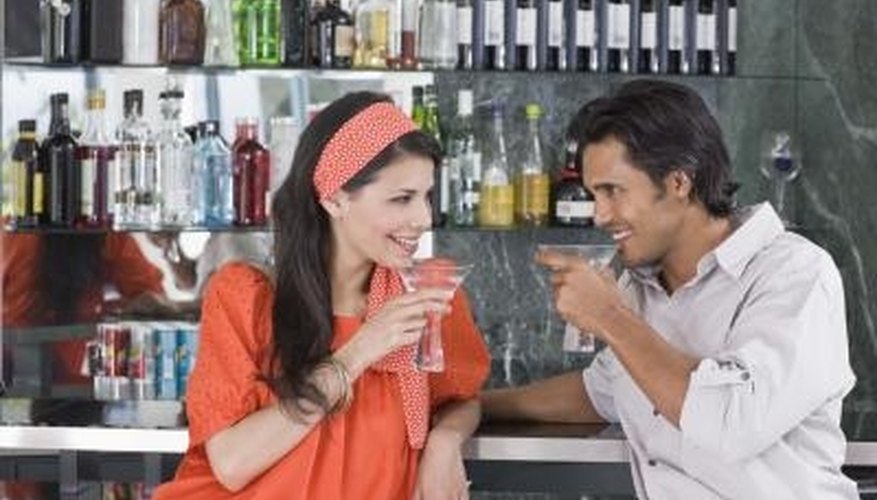 Bars and Nightclubs
The easiest places for older single women to meet men are bars and clubs. Bars with their generally laid back and pro sports atmospheres tend to attract older, often more mature men to relax and let loose after a hard day's work. Nightclubs attract men from all age groups and levels of maturity and often cater to certain age groups in individual nightclubs. Nightclubs are especially beneficial if you aren't looking for a serious relationship or if you are looking for more youthful single men -- some of these clubs are called "cougar clubs."
The Gym
One place you're guaranteed to find plenty of single men at is the gym. Men of all ages come to the gym to get in shape or stay in shape, and there are usually a handful working out every moment throughout each day. Just be careful about when you try to get their attention. It's probably not a good idea to interrupt a man's workout as you wouldn't want a man interrupting your workout either. Also, pay attention to men's ring fingers. By looking for a wedding ring, you should be able to determine who's single and who isn't.
Local Singles Events
A modern way for older single women to find a partner is through singles events. There are many different examples of singles events that are available. These events range from singles cruises, many of which cater to certain ages; local singles parties and dances and other singles events. Carnival Cruise Lines, for instance, offers several unique opportunities for singles, including cruises for singles in their 20s and 30s, singles in their 40s, and for singles of all ages. Frequently, ads for singles events can be found in your local newspaper toward the end of the week. You also can find local singles opportunities on websites, such as Meetup.
The Beach
Another ideal spot for older single women to meet men is at the beach. Although the beach is usually associated with teenagers and the college age crowd, there are in reality plenty of older, mature, single men hanging out on the sandy shore as well. Just look where older single men are more likely to hang out, such as at beach bars, pizza joints, on the sand sunbathing or participating in volleyball or even knee-deep in the ocean itself.
Other Activities
When the usual ideal places aren't providing enough opportunities for you to find single men, try thinking outside the box. There are several other places that might surprise you with opportunities. Some of these more unusual places include museums, sports activities, activities based on your personal interests, religious institutions, wine tastings, book stores and libraries, hardware stores and even public parks.
View Singles Near You