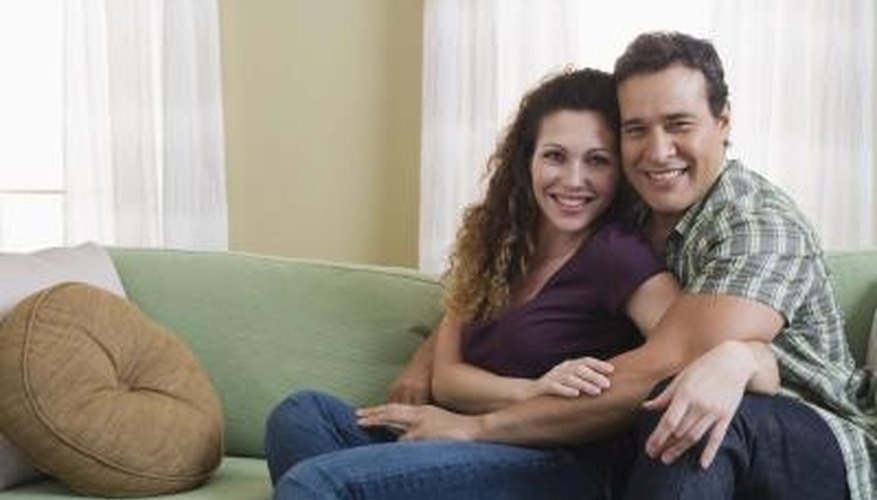 Dinner Date
If you're not the one that normally cooks, look up some recipes for a simple meal to surprise your loved one with. Invite her in as if she is the only guests at your gourmet restaurant, and let her sit in the kitchen at the "chef's table" and watch you work. Making the dinner together is also a romantic option followed by a candlelit dinner. For a more intimate feel, bring the couch cushions to the floor and spread a blanket or sheet to place the food on. Serve a simple romantic dessert of chocolate strawberries. Instead of buying the strawberries already dipped in chocolate, which can be pricey, buy plain strawberries and melt any baking chocolate you may have over the stove, and enjoy the strawberries fondue-style.
Dancing
Relive memories of the first time the two of you danced together, such as the prom for high school sweethearts. Married couples can relive their first wedding dance. Set up candles around the room. If you have an old disco ball or a light that looks like one, you can use that as well. Have your special song playing when she enters the room. A sign drawn on construction paper should have the theme of the night on it, whether it was prom, the wedding or the night the two of you met in a club. Play other songs relevant to your relationship whether fast or slow and dance and sing the night away
Movie Night
Make some homemade popcorn, and snuggle up with your loved one on the couch for a cheap, rented movie. If you don't want to purchase a rental, select a movie from your collection that you haven't seen in a long time, or play a movie that may hold a special meaning to your relationship. Offering to let your partner choose the movie, especially if you don't like the kinds of movies she watches, is also a romantic gesture. Married couples can also break out the wedding video, especially if it has been a while since watching it.
Romantic Games and Activities
Plan a scavenger hunt around the house with items related to your relationship on the list. When your partner arrives, give him the list of clues of the items that he must bring back to you for a prize. For instance, if you want him to find a diamond jewelry he gave, the clue could say "Just like diamonds, you're this girl's best friend." When he brings all of the correct items, tell him his gift is you, of course. Quizzing each other on things you know about each other or special moments often lead to lighthearted debates on what really happened, such as, "Who said I love you first?"In the bedroom, playful sensual games such as strip poker will kick off a night of romance.
Resources
View Singles Near You