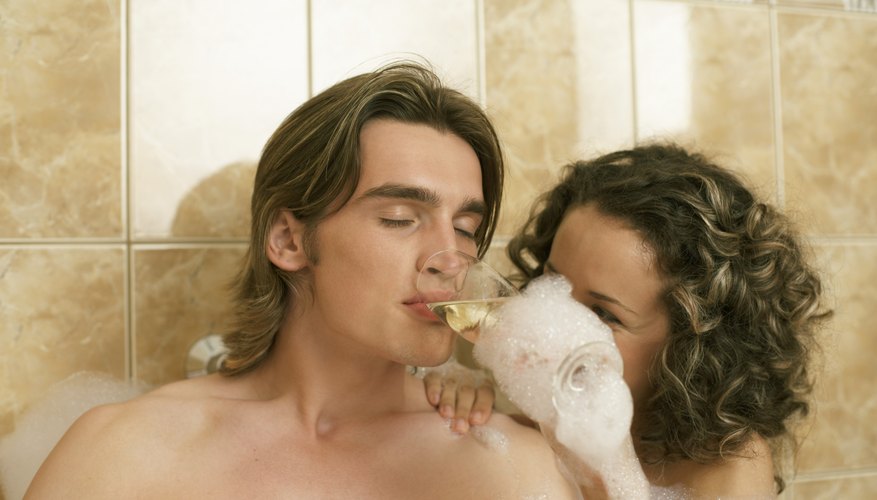 Overview
If you and your partner have been together for a while, you might enjoy spicing up your relationship with a romantic setting or a playful game and a hotel can serve as the staging area for a multitude of romantic and fun dates. What's more, you don't need to go far from home to enjoy a date at a hotel.
Is This Seat Taken
You can use the hotel bar as a chance to role-play with your partner. You don't even need to be registered at most hotels to meet for a drink. Dress up in a role that appeals to you and "accidentally" meet your partner at the bar. Pretend you don't know each other and strike up a conversation. If you like, you can register at the hotel for the night and take your date upstairs. Pretend you are having a fling with your partner. Women can dress up as business women, teachers, moms looking for a night out or a saucy playgirl. Men can be businessmen, husbands looking for a break, doctors or lawyers. The imagination is the limit.
Pampered Paradise
Stay in a hotel or resort that has a spa and relax poolside with your partner, or lounge in your room and have the spa service come to you. Drink champagne, wine or cocktails together while enjoying pedicures, massages, facials and any other service that appeals to you and your partner. When you're finished, order in room service and treat yourselves to a day of relaxation.
Honeymoon Suite
When booking your room at the hotel, ask about the honeymoon suite or any honeymoon packages. It doesn't matter if you are on your honeymoon or even married. Honeymoon suites often have romantic extras, like a whirlpool for two. Packages may include breakfast in bed, champagne and chocolate the evening before, with bed turn-down service and rose petals tossed all over the comforter. Make the date even more special by turning your cell phones off and leaving the computers at home. Pay attention to each other, give each other massages, play romantic games and cuddle up while watching movies.
Resources
View Singles Near You