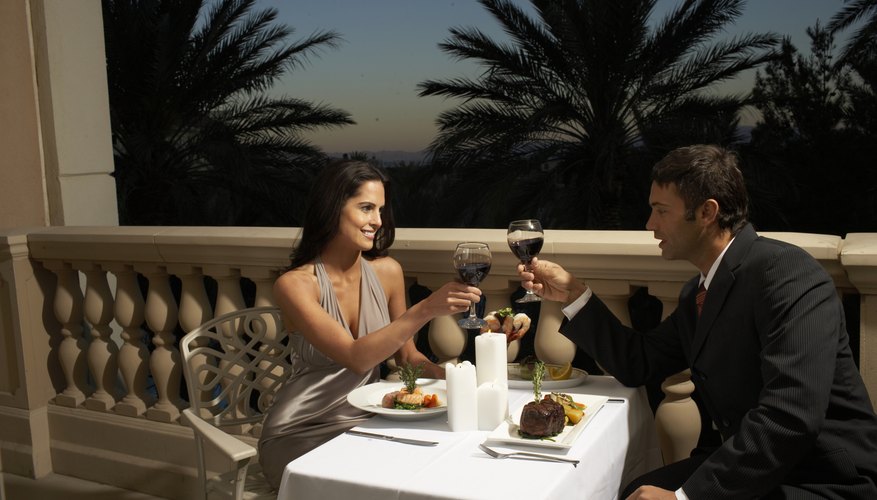 Overview
Everyone's idea of a perfect romantic night is different, but no matter what you choose to do, it takes planning and time to make it flawless. While casual dates are fun and memorable, a romantic date is needed every now and then, especially on special nights like anniversaries. The key is to be together in a place with no distractions, so you can focus on each other.
Stargazing
Go out stargazing. This is a simple date idea, but very romantic and it can be done whether you live in a city or the in the wilderness. Get a pickup truck -- either rent or borrow one, and set out for a dark place. If you live in a city you may have to drive a bit to find an overlook or a quiet, dark place. Pack dessert, sparking cider (or champagne for the non driver) and lots of blankets and pillows. Lay out some of the blankets in the bed of the truck so it is comfortable, and then cuddle with the rest.
Sunset Dinner
Have dinner at dusk somewhere with a good view of the sunset. For example, if you live on the West Coast, have dinner at a restaurant by the beach. Reserve a secluded table that is near the water, if possible. If you are not near the West Coast, the choose a romantic setting with a panoramic view. Choose a restaurant that is low key and not too formal. This way you know you will get good service and be able to quietly enjoy each others' company.
Candle-Lit Dinner
Plan a candle-lit dinner at your home. Have the table set with candles and flowers. Cook their favorite meal, or one that you know how to cook very well. Pair the wine you drink with the meal as well. Different wines taste better when eaten with different foods. Your local wine dealer can help you with this if you are unsure. If you do not want to cook, then hire a chef for the evening so both you and your date only have each other to concentrate on. Have a romantic dessert, like chocolate-covered strawberries.
Cruise
Go on a cruise together around a bay or lake. Some ships are made just for this purpose so you can reserve a table on one of these ships, or you can charter one for just you and your date. Dine out on the deck and take in the sea breeze. If you are visiting a city near an ocean, this is a surprise that you can have up your sleeve. Everything will be taken care of so all you have to do is enjoy each other and your time on the ship.
View Singles Near You