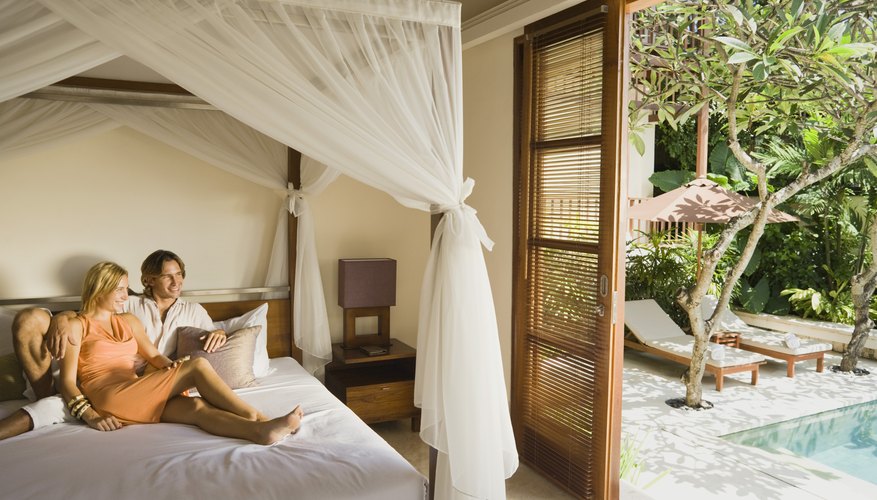 Setting the Mood
Setting the mood is one of the first steps when it comes to bringing romance into the bedroom. Experiment with lighting and scents to create the perfect mood in your bedroom. Hang decorative candle holders or wall sconces for candles to create a lot of soft light in the room or place candles throughout the bedroom, such as on the dresser or a nightstand. Only light candles when in the room and keep them away from fabrics to avoid a fire hazard. Add small lights to the room or install a dimmer switch to change the tone of the lights in the room. Decorative candles or sachets placed in the room will provide a romantic scent.
Romantic Colors
Avoid plain white walls or busy wallpaper when attempting to create a romantic feel in your bedroom. Paint the walls a neutral ivory or tan and accent the room with light pinks or blush colors and gold tones. At the opposite end of the spectrum, paint the walls a deep red or burgundy and accent the room with lighter colors. Furniture made from a darker wood, such as mahogany or dark cherry, adds to the romantic feel more than lighter-colored furniture.
Choosing Fabrics
Fill the room with high-quality fabrics to help create a romantic feel. Use silk or satin sheets on the bed and cover them with a lush comforter in a solid color or with a simple pattern that contains gold or silver accents. Cover the bed with soft pillows and velvet accents. If you have a four-poster bed, drape sheer fabric between the posts. Include additional places to lounge in the room, including soft rugs with floor pillows or a chaise lounge with a velvet or chenille throw covering it.
Theme Rooms
Create a theme room to help you and your significant other escape into romance. Create a tropical getaway with light beach-inspired colors, a small indoor water fountain and a mural of a tropical scene on the wall. If you and your significant other have a favorite vacation spot, decorate the room to bring back memories from that place, including pictures of your trips there. Create a rustic lodge with wood accents, animal pictures and flannel sheets or paint a Parisian-inspired mural on the wall and accent the room with antiques to channel the city of love.
View Singles Near You