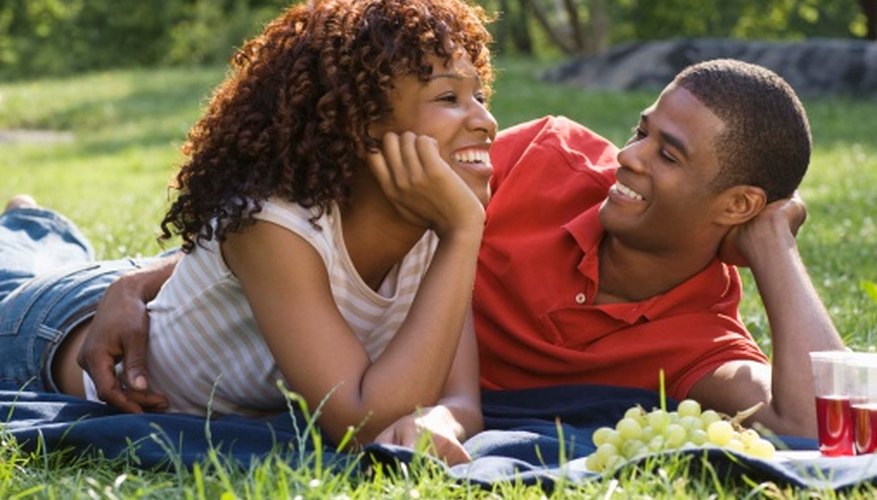 Re-Create Your First Date
Even if your first date wasn't overly romantic, the process of recreating that special day certainly will be. This does not mean simply going to the same places and doing the same things, but also remembering some of the smaller details and incorporating them into your re-created first date. For example, you can wear the same clothes, jewelry and fragrance, play the same music, make the same jokes and have a similar conversation. The fact that you remembered all these details is romantic in itself.
Picnic Under the Stars
A picnic under the stars is very romantic. You will need several picnic-friendly dishes, such as potato salad, sandwiches, pizza buns, cheese and crackers, fruit and veggies with dip. You might also want to bring along a cake or some cupcakes that say happy birthday. Of course, you can't forget the picnic essentials, such as a blanket to sit on, a blanket to cozy up with, utensils, napkins and a basket. To add to the romance, light several candles --- contained in jars for safety --- and bring a bottle of wine, two square pillows to sit on, a portable CD player and several CDs with romantic music and songs that have meaning to you as a couple. If you want it to feel more like a birthday celebration, purchase a bunch of helium balloons and have them attached to balloon weights so you can place them around your picnic blanket. If it is too cold to have a picnic under the stars, have a picnic on the living room floor instead.
Romantic Spa Package
Many spas offer romance packages for couples. The services and perks offered with each package differs, but most offer side-by-side couples massages by candle light, a light spa lunch in a romantic location and a room for two with chocolate covered strawberries and wine. Spas are generally located in scenic areas, so take some time to walk around and explore the grounds while holding hands and reconnecting.
Home Cooked Meal by Candlelight
A home cooked meal can be very romantic, especially if the dishes served have significance. For example, you could make all of your partner's favorite foods, even if they seem like an odd combination. Or, you can re-create the meal you ate on your first date or wedding day. Add to the romance by lighting scented candles, playing romantic music, sprinkling rose petals on the table, placing a bottle of wine on ice and serving chocolate-covered strawberries for dessert.
View Singles Near You