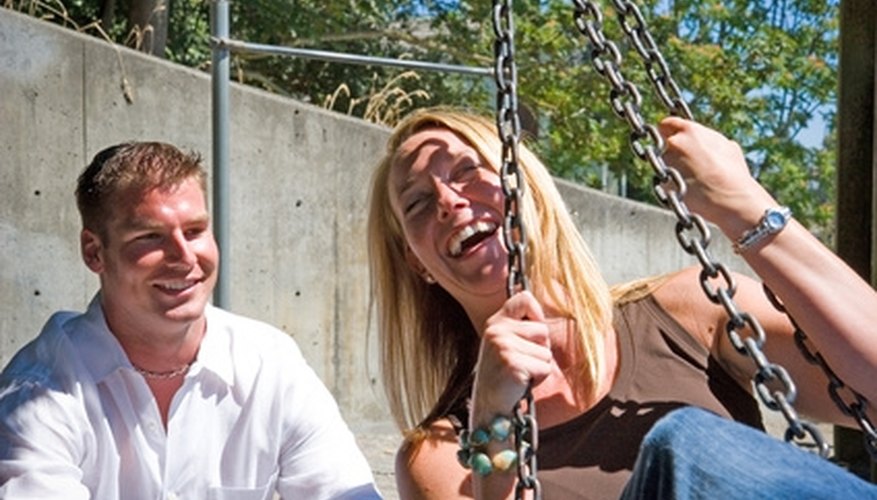 Picnic
Prepare a simple meal, such as a loaf of bread, a block of cheese and a bottle of wine, to share in the shade of a big tree in the park, or go for a hike or a trail walk to find a secluded area for your meal. If you go in the evening, find a spot where you'll be able to watch the sunset. Plan according to your region -- you may need to wear layers of clothing or bring some bug spray.
Stargazing
The night sky is a beautiful and awe-inspiring panorama that reminds us of the vastness of the universe and compels us to ponder grand questions. This is an ideal setting for sharing intimate thoughts with the person you love and cuddling in the cool night breeze. Bring two big blankets and look for a spot outside of town where the stars aren't so dimmed by the lights. If you can't get to a place where you can see the stars, drive to a bluff or climb to a rooftop so you can gaze at the city lights. You also could watch as sun sets or the moon rises.
Go for a Ride
Horseback riding through the woods or along the beach is a time-honored romantic tradition practiced by Jane Austin heroines and many a cinematic couple. If you don't like the idea of being on a horse, try sitting in a carriage behind one instead, especially when it's snowing. Some other exciting, romantic riding options include riding in a hot air balloon, flying in a sight-seeing helicopter or going cross-country in an all-terrain vehicle. If these are out of your price range, go for a scenic ride in your car. Put the top down if you have a convertible, put on some romantic music and drive along a secluded route. Stop for ice cream along the way or bring a picnic with you.
Dancing
A lot of couples are too bashful to dance with each other, but a slow waltz or a smoldering salsa gives you the perfect opportunity to get close to each other. Take dancing lessons together and hit a local club, or find a dance hall in your area where you can groove however you want. If you're too nervous to dance in front of other people, take your sweetheart to a hidden meadow or your back yard and dance under the stars.
References
View Singles Near You