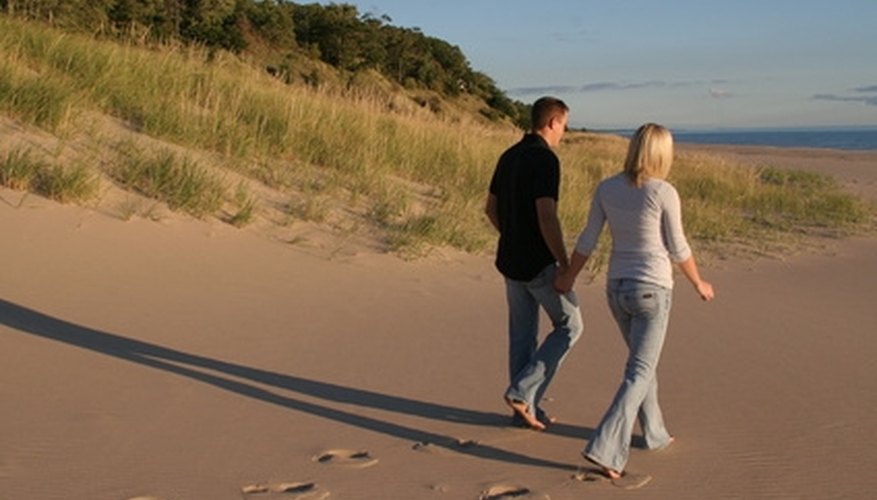 Beach Bonfire
While it's no secret that walks along the beach are romantic, a beach bonfire date can have it all. Find a beach in your area that allows fires or has fire pits. Select a time later in the evening to go and bring a picnic blanket and basket packed with your favorite appetizers. Open a bottle of champagne or your favorite drink and watch the sunset together. When the sun has gone down, the two of you can share a blanket and stare at the fire. Don't forget to bring marshmallows!
Themed Nights
Themed events make for fun and creative date nights. Find a local movie theatre or drive-in that plays old Hollywood movies and ask your mate to dress up in 1950s style. Women could wear pin-curls, poodle skirts and button-down sweaters while men could wear brown slacks and polo shirts. The man should be a gentleman all night, opening car doors and paying the cost of the movie. Finish or even begin your night with dinner at an old-style diner where you order burgers and a milkshake to share.
A Night In
Sometimes being romantic doesn't mean going "all-out." If the idea of romance for you and your date is snuggling under a blanket and reading together, sharing a bath or spending all night practicing your smooching, then, by all means, do it. Add some romantic ambiance to your night in by filling the room with candles or lighting a fire. Another way to spend a night in is cooking your favorite meal together. Cooking together can be fun and even funny if one or both of you are not kitchen-inclined. Cook up a pizza or some pasta together, and line your table with candles. Cap the night off with a glass of wine.
A Night on the Town
Sometimes playing tourist for the day can be fun. Pick up your date and take her to a fancy French restaurant. Afterwards, go for a horse-and-carriage ride and take a tour of your city. Finish your night by stargazing together on a blanket at your local park or even in your back yard.
The Wild Side
Are you and your significant other risk-takers? If so, capitalize on that zest for life and arrange something completely unforgettable for your date such as scuba-diving or swimming in a shark cage. Alternatively, you could go hang gliding, bungee jumping or rock climbing, or take a ride in a hot air balloon.
View Singles Near You