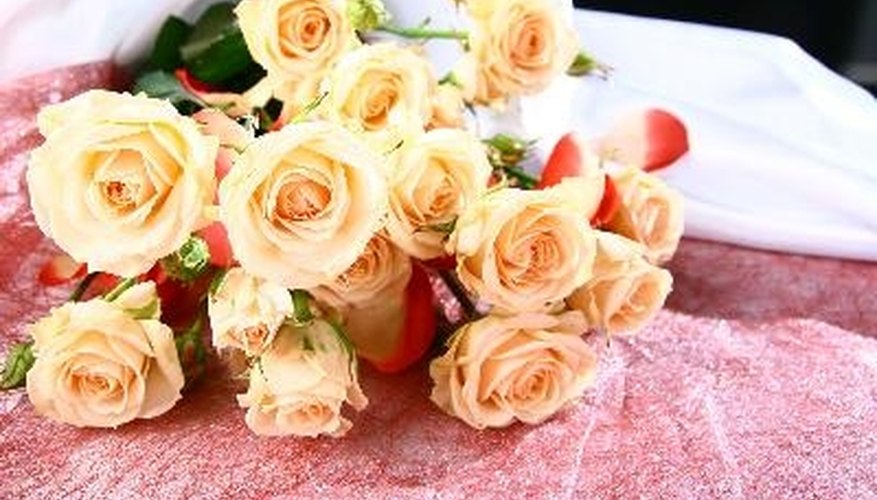 Location
Where you choose to dine with that special someone can add or detract from the romance. If you're staying home, choose a place where you wouldn't ordinarily dine, such as in front of the fireplace, out on the balcony or, if the weather is balmy, in the yard. Pack a picnic and go to a park for dinner under the moonlight. Don't let cold weather stop you. Keep foods hot in thermoses and snuggle under a blanket while you dine. Nearly any location is romantic if it has special meaning for the two of you.
Food
Certain foods, such as oysters, rare steak and chocolate are considered aphrodisiacs. While that may or may not be true, if you believe certain foods will lead to after dinner romance, then certainly include them. Food that can be eaten with your fingers is romantic because it's tempting to feed each other bites. Whip up a batch of fondue, that cheesy dip from the 60s. It's back in favor now. It's also good for a romantic dinner because nearly all the preparation is done ahead. Serve a cheese fondue with crunchy bread and spicy sausages as the starter course. Present a broth-based fondue bubbling around the edges for the main course. Serve with slices of raw meats and vegetables to be cooked in the broth. Finish with a chocolate sauce served with strawberries, slices of fresh fruit and cake squares for dipping.
Catered
Most restaurants have take out. Call ahead and have a special dinner prepared. Explain that it is for a romantic occasion. The chef will most likely go out of his way to make your dinner special. Stay away from entrees that require a certain degree of doneness to reach perfection. In other words don't order medium rare steak because by the time you pick it up and get it to the dinner location, continued cooking from the residual heat will have turned the steak from medium rare to medium.
Atmosphere
Create a romantic atmosphere. Flowers are inherently romantic. Use them as a centerpiece. Float flowers in glass bowls alternating with candles in votive holders. And that brings in another factor: lighting. Have enough lighting to see the food and know what you're eating, but keep it as low as possible. Candlelight is ideal. Place candles either above eye level or below, so that when you gaze lovingly into each other's eyes you're not staring into the candle flames. Use your best china and crystal. If you don't have crystal, consider buying a pair of champagne flutes for this dinner.
View Singles Near You