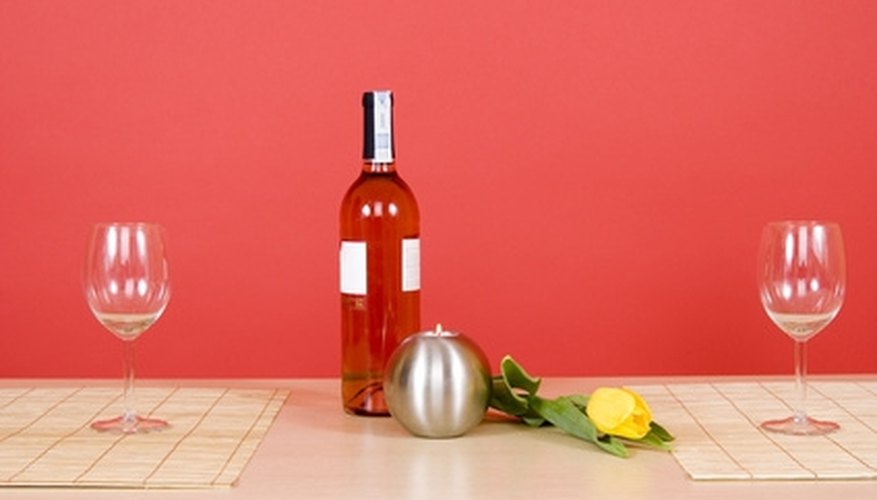 Luxurious Restaurant
Nothing says "romance" like a four-course meal at a fine dining establishment. If your budget can handle it, Valentine's Day is the perfect time to splurge. It's a special day, so why not spend it at a restaurant unlike one you would visit any other time of the year? Fancy restaurants with beautiful views, live musicians and exotic cuisine increase the romance factor. Be warned, though, that Valentine's Day is one of the busiest times of the year for restaurants, so make reservations as early in advance as possible.
Budget Night Out
Not everyone can afford to spend Valentine's Day at a five-star restaurant, and even if you can afford it, you might not be able to get a reservation at the best restaurant in town. In these cases, enjoy a budget Valentine's Day dinner and save money for roses and chocolates. Recreate your first date with your significant other, even if it was at a coffee shop or inexpensive chain restaurant. Another idea is to pretend like you and your date are teenagers, and spend Valentine's Day eating fast food and going to the dollar movies. Being young at heart is always romantic.
At-Home Romance
Having your Valentine's Day dinner at home is the perfect opportunity for romance. You can make the foods you and your sweetheart love, or try cooking a new gourmet recipe together. You could also avoid having any dishes to clean up and just order takeout from your favorite restaurant, served by candlelight in the comfort of your home. If you start to get cabin fever, consider leaving the house to enjoy coffee, dessert or after-dinner drinks at a local cafe.
Green Dinner
If you and your significant other are conscious of environmental issues, honor your love for the Earth with an eco-friendly Valentine's Day dinner. Choose a restaurant that uses local, sustainable and organic products in its meals. The perfect complement to this dinner would be a potted plant in place of cut flowers, fair-trade chocolates and a handmade or recycled greeting card. The romantic feeling in your hearts will be magnified by the knowledge that your celebration isn't harming the planet.
View Singles Near You