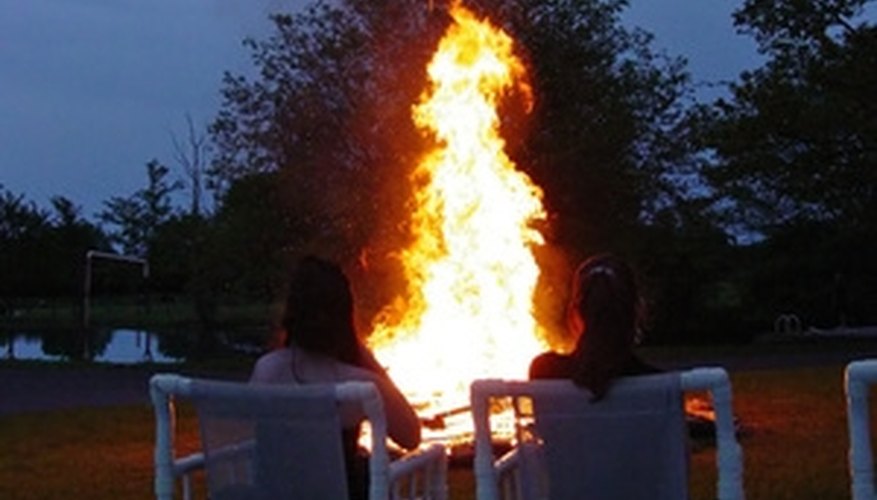 Living Room Picnic
When funds are low or when you want to have a low-stress evening, plan a living room picnic. If you have children, arrange for them to spend the night at a relative's house to ensure complete peace. As you plan, consider ways you can anticipate your significant other's preferences and needs. If he is having a long week at work, for example, turn off the television, clock and computer, and put your cell phones away; removing the digital devices that cause so much stress can go a long way in creating calm. To set a romantic mood, use soft lights like candles or Christmas lights, which are flattering and relaxing. The focus of the evening should be on being together, away from outside pressures; set out simple food and make sure there are plenty of blankets and cushions for a comfortable evening in.
Bonfire for Two
If you live near a lake, ocean or even a river, plan a romantic bonfire for two. Look for a spot on the shore that is secluded and that will offer a clear view of the sunset and the stars. During the day, head to your chosen site and gather wood, build the base of your fire, and set out chairs or move logs to act as seats. In the evening, ask your husband or boyfriend to go for a drive and bring him to the site. Beforehand, hide a basket in the back with blankets, a bottle of wine and some easy-to-transport snacks for the evening. Enjoy sitting on the beach together, listening to the water and roasting marshmallows over the fire.
City Walk
Play tourist in your own city with your significant other for a romantic evening on the town. You might check out the newest restaurant, pop into stores you've never visited or take the time to walk around unfamiliar streets or neighborhoods. During the evening, plan to visit a museum, theater, bar or bookstore that neither of you have been to. You can explore with a camera, stop to swing at the playground or take advantage of a class or sporting event that you happen across. Hold hands as you stroll down the street, take time to kiss in secluded spots, and enjoy the experience of being together in public. This is particularly effective in a large city, but can also be a fun way to explore new parts of a small town as a couple.
View Singles Near You