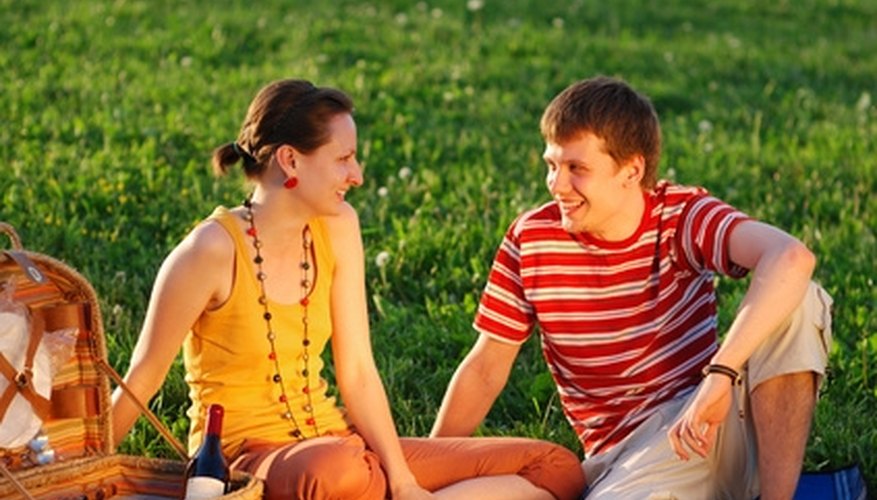 Surprises
An element of surprise always increases the romance of an event. Pretend you are going somewhere mundane and everyday, cut across a park and pull out a carefully concealed picnic from your bag. On the other hand, the location of the picnic could be the surprise. You could get your loved-one to help you pack what he or she thinks is an ordinary picnic, but in secret, you could also pack a daypack or even an overnight bag and venture out into some scenic countryside for your picnic. For a really special occasion, you could even go abroad for your picnic -- pick a holiday-spot for an idyllic getaway and make the planned picnic part of a larger vacation.
Ordinary Locations
Setting up a particularly sumptuous picnic in an ordinary location could be just as unexpected and special as traveling to a new location. Backyard picnics or picnics in front of the living room fireplace can be delightfully unusual. A candlelit nighttime picnic can make an ordinary location more romantic too. As long as the food, drink, cutlery and crockery of the picnic are opulent and you use other features to set the scene -- candles and music, for instance -- even the most unremarkable location can become romantic.
Make It Meaningful
Locations, food, drinks or music that have some significance to your loved-one or to the two of you as a couple are good ways to create romance. Picnics set in the place where you met or with some meaningful music playing in the background could turn an ordinary picnic into something moving and amorous.
Food and Drink
Food and drink are not only seminal to a picnic, they are also important ingredients for romance. Wine and Champagne instantly make a meal more special, for instance. Picnics usually have simple foods, so adding some opulence will turn an ordinary picnic into a romantic one. Cold seafood, dried meats, cheeses, sweet fruits, rich desserts and gourmet chocolate can be both practical and sumptuous.
Considerations
Remember that at a picnic you will usually be outdoors for a long period of time, so take proper precautions. Pick a day forecast to be warm and sunny, but prepare for changeable weather. Take a first aid kit and plenty of water. Apply sunscreen and insect repellent and take a blanket to keep your clothes and food clean.
If you are surprising your loved-one with a romantic getaway, make sure she can take the time off and that you pack her what she will need.
Make sure you go to well-known places, or at least have a map, compass and flashlights.
View Singles Near You