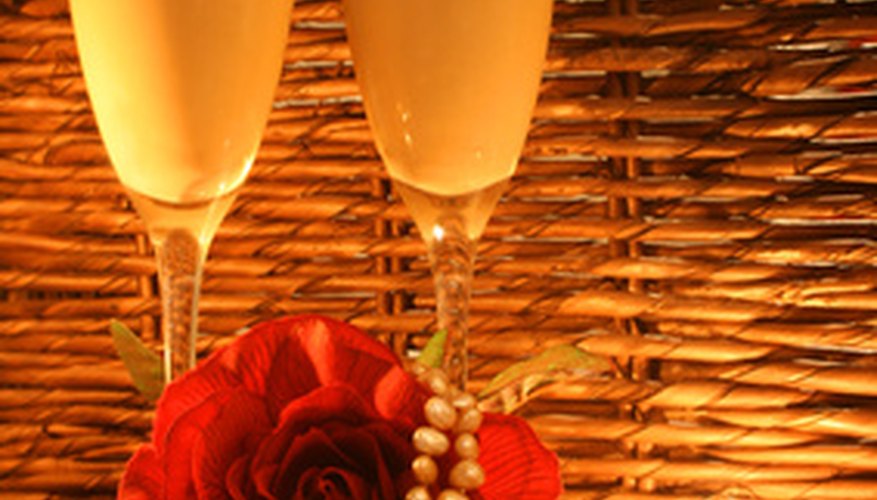 Parisian Setting
If you can't make it to Paris, bring Paris to you. Arrange a round Parisian cabaret table with two chairs out on a balcony, a patio or a rooftop if you have access. Cover the table with formal silverware, floral china, fresh flowers, candlelight and a toile tablecloth. Off to the side, include a bottle of French wine or chilled champagne. For dinner, offer a sampling of various French foods. Include soft French music or read a love poem in French aloud for an added bit of ambiance.
City and Waterfront Views
Create a romantic setup by visiting sites with impressive vistas around your region. For instance, go to a nearby observatory or head out to a hilltop where you can watch the stars together or enjoy views of the city while feasting on a gourmet picnic. If you reside near the coast, rent a canopy for the beach. Bring such treats as chocolate-covered strawberries or cheese and crackers, while huddled near a campfire and watching the sunset. You can also reserve a horse-drawn carriage ride through a sprawling park or alongside a waterfront district as you sip from a cup of hot chocolate under a blanket.
Romantic Hotel Room
Rent a room in a boutique hotel or a bed-and-breakfast facility, particularly one located in a quaint setting, such as a seaside village or mountain town. Search for accommodations which offer a host of services, including guest rooms outfitted with whirlpool bathtubs and fireplaces. Cover the bed and fill the tub with scattered rose petals. Order in-room spa services, including a couples massage, if possible. Relax in a pair of plush robes as you read aloud from your loved one's favorite classic romance novel or poem.
View Singles Near You