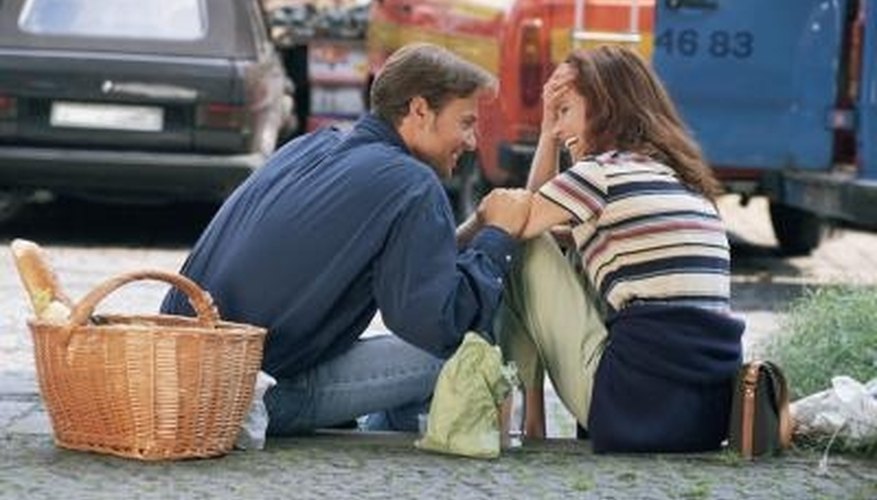 Apple Picking
Take your date to an apple orchard for an afternoon of apple picking. Once you've filled a few baskets, take them home and make dessert together. Enjoy your dessert with wine or coffee.
Homemade Pizza
Visit the grocery store together, and get ingredients to make your own pizza with all of your favorite toppings. Assemble and enjoy the pizza at home, with a favorite CD playing as you work and eat. As a variation on making dinner, surprise your date by decorating your home like a restaurant in a foreign country and cooking a meal with foods from that destination.
Live Performances
Enjoy a live theatrical or musical performance at a local playhouse or concert hall. Bring a picnic if the venue permits food.
Geocaching
Take your date geocaching, a treasure hunt using online coordinates and a handheld GPS. Once you've completed your search, enjoy a cup of coffee or an ice cream cone together and examine your finds.
Tours
Find a local chocolate factory, vineyard, brewery, cheese maker or other unique destination where you can take a tour. If you can sample the food or drinks along the way---or even try your hand at making them yourselves---even better.
Hiking
If you've known your date long enough that you feel comfortable going off into the woods together, go for an early-morning hike and bring along coffee and breakfast. Watch the sun rise and enjoy a breakfast picnic when your hike is done.
Meteor Showers
If the forecast calls for meteor showers and clear skies, visit a beach or a park at nighttime and enjoy the free "show." Bring along a telescope and a book of constellations, and try finding them in the sky together. Alternatively, visit a local observatory for a detailed look at the night sky.
View Singles Near You