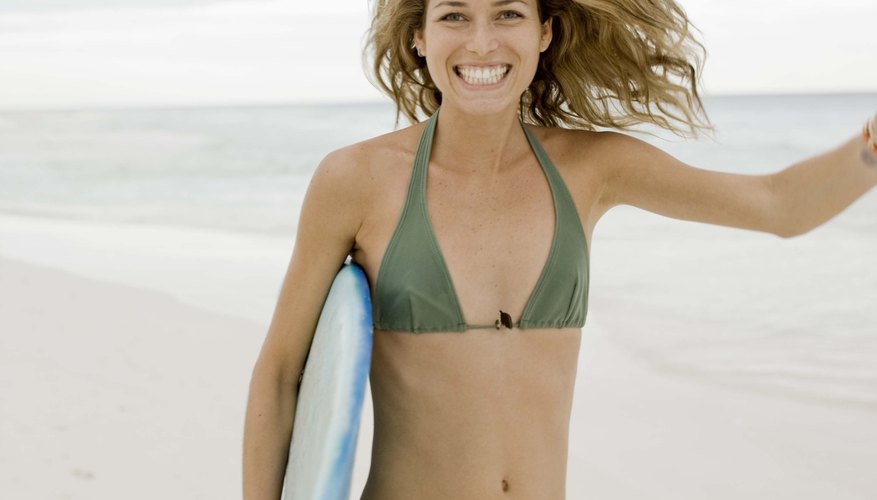 Step 1
Wear a bathing suit that you feel great in. It doesn't have to have the best design or show off a ton of cleavage. Confidence is the sexiest thing you can wear, so if you feel great, you'll look great.
Step 2
Bring snacks or drinks to a beach party, or if you're just hanging out on the sand, soaking up the sun. This will be an especially big hit if your crush is a guy, since the way to a man's heart is through his stomach. You'll score extra points if the provisions are homemade. Just don't try out something new that you've never made before. Bring along your most tried-and-true, big hit crowd pleaser.
Step 3
Toss around a football with your friends. Be playful and fun instead of sitting on the sidelines. Also, if your crush is playing the game too, you'll have plenty of excuses to playfully tackle them or jokingly push them. You'll also come off as someone who's carefree, enjoys life and doesn't feel too embarrassed to play a sport, even if you're not great at it.
Step 4
Jump in the conversation. If your crush is talking about something he likes to do or a movie he enjoyed, edge in and make a comment. You don't have to dominate the conversation, but you can make yourself noticeable while showcasing that you two have similar interests.
Tip
If you don't think you're catching the eye of your crush, and you've tried everything you could think of without being overbearing, back off a bit. They may simply not be interested, or maybe they just need some time to notice you too!
Warning
Don't waste your time crushing on a guy or girl who isn't a great match for you. Before you get swept up and focus all of your attention on attracting your crush, make sure that you'll actually like that person's personality. Get to know the person as a friend first, and check out what his or her friends are like. This will give you good insight into your crush.
View Singles Near You