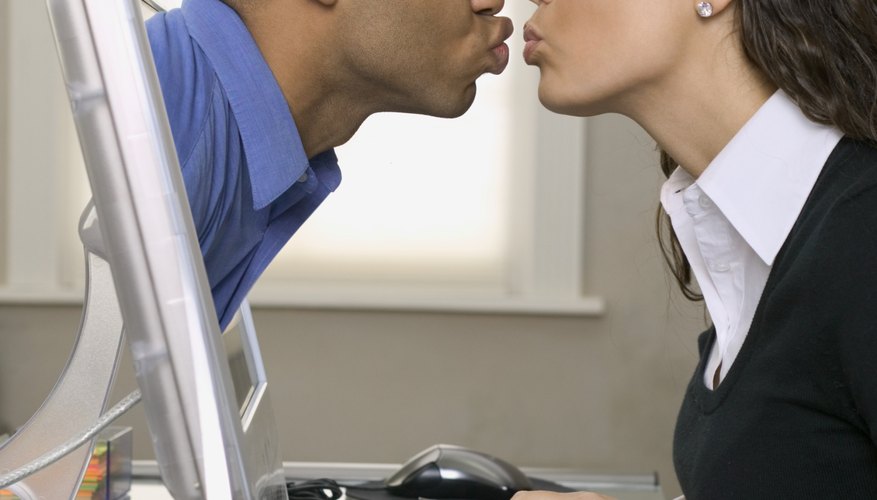 Include Good Photos
Dating profiles with photos attract 80 percent more responses than profiles without them, according to Judsen Culbreth, author of "The Boomers' Guide to Online Dating." Dating profiles without photos raise suspicion that the person posting the profile has something to hide. Include at least one face shot and one full-body shot. To make profile photos more flattering, let a friend take the shots so you will look less rigid and your smiles look more natural. The camera lens should be at eye level or above, James Houran, Ph.D., states on the Online Dating Magazine website.
Keep Messages Short and Sweet
Mies van der Rohe is credited with the quote "Less is more." He was referring to ornamentation in architecture, but the same principle applies to your outgoing dating messages. One line messages won't cut it, but sending pages of text is overkill. Besides, before you actually meet in person, you are actually communicating with a stranger. Don't give out information that you may regret disclosing later. In addition, a long list of requirements for prospective partners may put off would-be respondents who fear they cannot measure up.
Stand Out From the Crowd
If you like romantic walks by the beach, puppies and chocolate ice cream, that's great, but it's not useful information to include in a dating profile or in a message to a dating prospect. Instead, focus on unique, but flattering aspects of your personality. If you have an unusual hobby, including it in your profile may catch the eye of someone who shares the same pastime. Using so-called niche words in your dating profile helps you to build a connection with people who read your profile or messages, according to the website OK Trends.
Play It Cool
Don't stalk would-be dating prospects. Once you've sent a message, give the recipient time to read it and compose a response before sending another. Resist the temptation to park online, obsessively checking your inbox. Many online dating services show when particular users have signed in. If you are always online, you may come off as a player or incredibly desperate, neither of which adds to your online appeal. If you haven't heard back in several days or a week, sending a single follow-up message is fine. Otherwise, it's best to move on to other prospects.
View Singles Near You