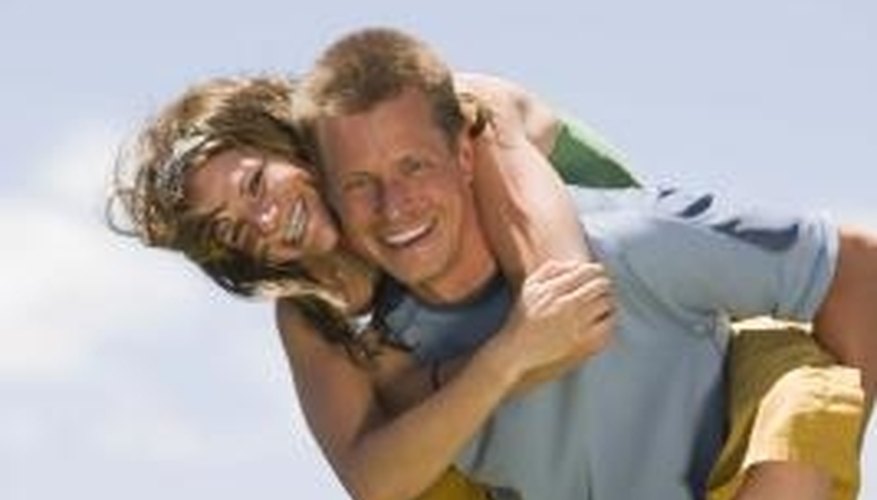 Explore the Arts
Look up university calendars online. Most schools regularly put on plays and concerts with low-cost tickets, and you'd be surprised at the number of readings and lectures that are free and open to the public. Most museums have free days. If you don't have a fine arts scene near you, create your own. Rent a bunch of movies in the same genre, print up a program with in-jokes for the two of you, and start your own private film festival tradition.
Venture Outdoors
Take a hike near the river. Walk the cart path at a golf course. Go on a picnic. Take your dog(s) to the park and let laughter reign over Rover's antics. Drive outside the city limits and lie on a blanket gazing at the stars. Check the paper for information on upcoming free concerts at local parks. Join the popular geocaching movement and participate in a high-tech global treasure hunt.
Share Your Hobbies
Meet for drinks in a bar with a band you like. Take a beginning swing-dancing class together. Go to the drive-in. Go to a fresh-air farmer's market and pick out items for a romantic dinner you can cook together. Introduce your date to your favorite quirky thing to do -- whether it be canning, woodworking, playing a musical instrument, gaming or even karaoke. Sign up as a team of two for Trivia Night.
Think Local
Look for location-specific websites like Time Out that list upcoming events in your area. They almost all have a section for cheap or free things to do. Be a tourist in your own town. Check out the landmarks you've always taken for granted. Buy a couple of disposable cameras and go on a photo-taking expedition for the day. Take a drive around the city through an area with interesting architecture.
View Singles Near You