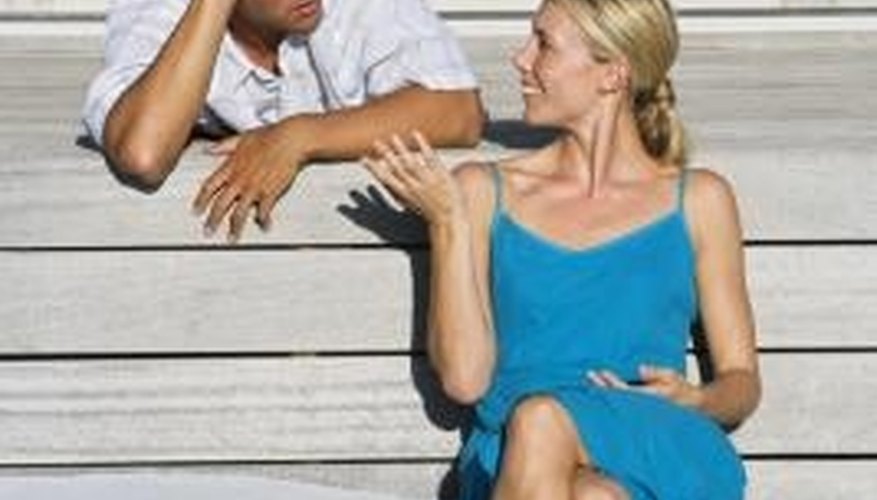 Relationships
Whether the subject is your relationship or pondering what's going on in your friends' lives, discussing what makes relationships a success will not only give you something to talk about, but also a give you both a chance to reflect on your own relationship. Discuss a variety of relationship themes such as things to do when the relationship gets stale, what each of you consider cheating and what would cause you to break up. Other areas that are gab-worthy are adopting children, how to handle in-laws that don't like your partner and whether you'd ever go on a couples retreat.
Self-Analysis
Despite the enjoyment of being a couple, you also have your own lives. Discuss issues that deal with your life independently, regardless of whether you can incorporate your partner into those issues. Going on a 6-month weight challenge, becoming a vegetarian and doing a nude photo shoot are all topics that affect you individually but open the floor for great discussion -- even a debate --between you and your partner. Get feedback on how each other would feel if the other wanted to get plastic surgery or to quit working to follow a dream.
Hobbies
Perhaps the only hobbies you two currently have involve sitting on the couch watching hours of TV; or you could be known as the active couple who spends every day preparing for mega marathons. Discuss hobbies that you've always wanted to get into and the possibility of diving into those hobbies. If you two are avid baseball fans, chat about spending spring weekends touring a few baseball training camps. Talk about what it would take to go on a hiking trip in Puerto Rican rain forests or whether you two would dare going on a casting call for a reality television show.
Love and Intimacy
At some point in your relationship, love, sex and intimacy are going to come up. Chat with your mate about some of the more intimate things of your relationship such as if you both are satisfied sexually, how to spice up the relationship and what you find sexy about each other. For some couples, you're so focused on being intimate and having sex that you may not actually discuss those topics that actually tell each other how you feel about the process of getting physical. Other love-related topics include when you knew you fell in love, who in your past you were happy to fall out of love with and what you think it takes to stay together for the long haul.
View Singles Near You