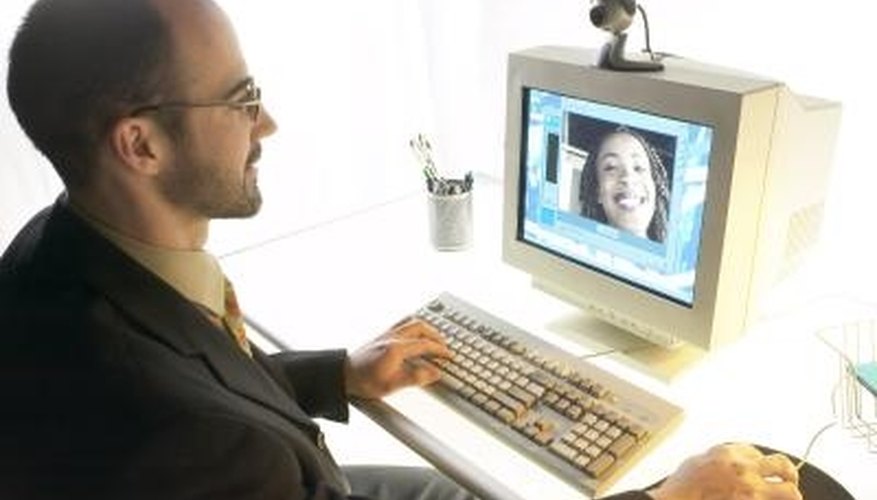 Talk over the phone at least once a day. It's important that while you are far apart you are still very much a part of one another's daily routine. If you can talk twice -- say in the morning and before bed -- that is even better. Even if you are busy and don't have a lot of time, make an effort to have at least a short conversation or make a plan to talk at the same time every day.
Plan video dates once or twice a week. Most computers today come equipped with webcams that allow for you to converse and see a person far away. If you don't have a webcam you can find them at most electronic stores. Share a glass of wine with each other over the webcam, have dinner at your computers with one another, watch a movie together or even just talk.
Make a plan for regular visits. This doesn't mean breaking the bank to visit every weekend, but setting up an agreement that each of you will periodically visit each other can provide a goal to look forward to while you are apart. You could even set up a bank account where you each contribute a certain amount of money a week to save for visits.
Send letters. While the Internet has made it easy to e-mail messages and cell phones allow for quick texts, nothing beats getting something in the mail that someone has put effort into sending. Love letters are classic romance. Send a care package once a month to one another that contains things like perfume, homemade cards, favorite foods and mix CDs.
Tips
While you and your significant other obviously can't be physical while apart, you can still use the Internet to have some romance. Dress up in a sexy outfit or even take a bath together over the webcam to keep some vibrant sexiness in your relationship.

Don't be afraid to discuss insecurities or fears you have for your relationship. If you are worried about the relationship ending or trusting your significant other, or you are having any other fears, don't mask them. Communication is the key to eliminating these fears.
View Singles Near You