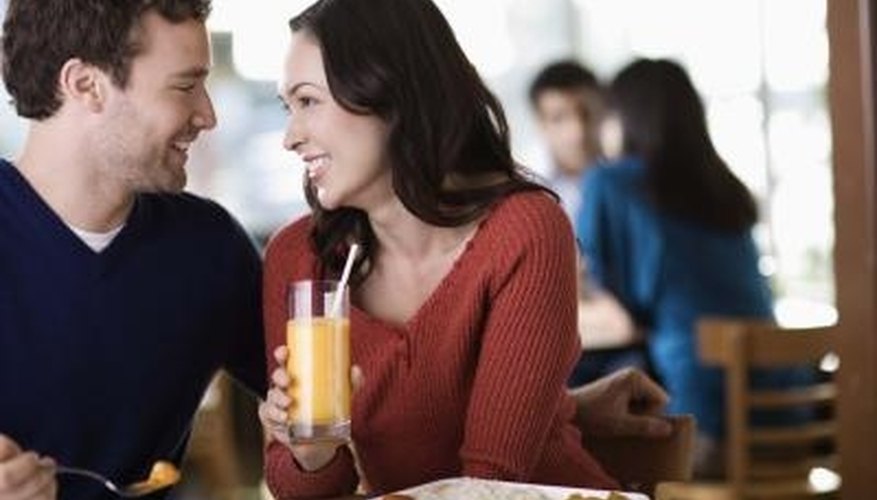 Express your emotions verbally. When you are in love, don't keep it in. Instead, tell your guy how you feel. Verbally declare your love often, making it clear to the man in question that you truly care about him and making him feel special and loved, something everyone likes to feel.
Touch him tenderly. When you sit down with your guy to watch TV or take a seat next to him at a restaurant or movie theater, don't feel the need to keep to your side of the sofa, table or chair. Instead, give him a foot rub, place your hand on his, or run your hand up and down his arm. These seemingly inconsequential touches can serve a reminder to your man that you are truly into him.
Make time for him. While you don't want to give up all of your independence just because you have found a man you like, it is wise to reallocate some of your time to spending time with him. If you constantly seem too busy to spend time with him, he will not feel that he is important to you or that you care about him deeply.
Give him tokens of your love. Don't let your guy be the one buying all the gifts. Instead, get him some small things that indicate just how much you love him. Buy him a book that is set in a place you have been together, a briefcase to celebrate his new promotion or a picture frame to house an image of you and him together. These small -- and often inexpensive -- gifts make it clear to your guy that you are thinking about him often.
Express interest in the things he likes. Maintaining a successful relationship requires some give and take. This means that, even if his hobbies aren't the ones you would select, you should put some effort into developing an appreciation of them. If he is a huge football fan, for example, throw a Super Bowl party and join him in watching this game that, while perhaps not important to you, is of interest to him.
View Singles Near You