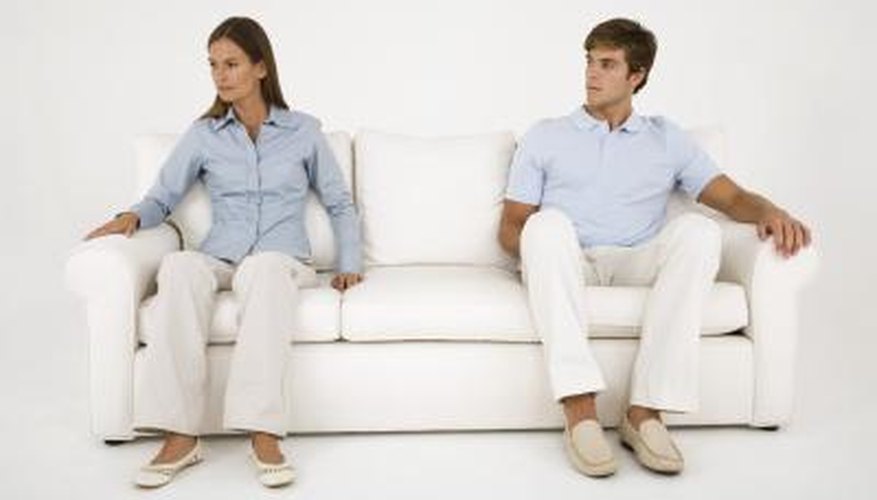 This can be especially difficult while still in love with that partner. Nonetheless, if a relationship becomes verbally or physically abusive, it's crucial to let go and move on. Without this, the negative cycle of behavior is likely to continue. Following five guidelines should help most people effectively cut ties with an abusive partner and move on.
Step 1
Remember the negative aspects of the person and the hurt he has caused. In many cases, it's quite common for a partner to focus on the positive qualities of a person, which usually leaves that partner in a state of limbo. Keep reminding yourself of how hurtful he has been to help you objectify your view of him and initiate the process of moving on.
Step 2
Realize that his behavior isn't going to change and force yourself to see through the deception so that you can move on. Don't believe your partner's excuses or promises that he will change; when you're in love, it's easy to be fooled into believing that these statements are legitimate. Remind yourself that in most cases, the behavior never changes.
Step 3
Tell him directly that you want him out of your life and that you must move on. Be completely clear with him about your choice. Don't sugar coat it or be overly nice about the situation. Be direct about your choice. You should also separate yourself from your partner as much as possible. Maintaining contact will only make the separation process more difficult.
Step 4
Accept that it will take a period of time to heal. Anticipate that it will take time to get your life back on track; the process of letting go of any type of love takes time. Remind yourself that you're making the right choice and doing what's best for you.
Step 5
Work on yourself and take some time to reflect. Don't feel guilty or beat yourself up about the situation. Remember that you're doing what's in your best interest, so try to get stabilized and begin improving your life. Over time, your life should get back on track and you will be ready to begin new, healthier relationships.
Tip
Seeking some type of professional counseling can also be beneficial for many people.
View Singles Near You