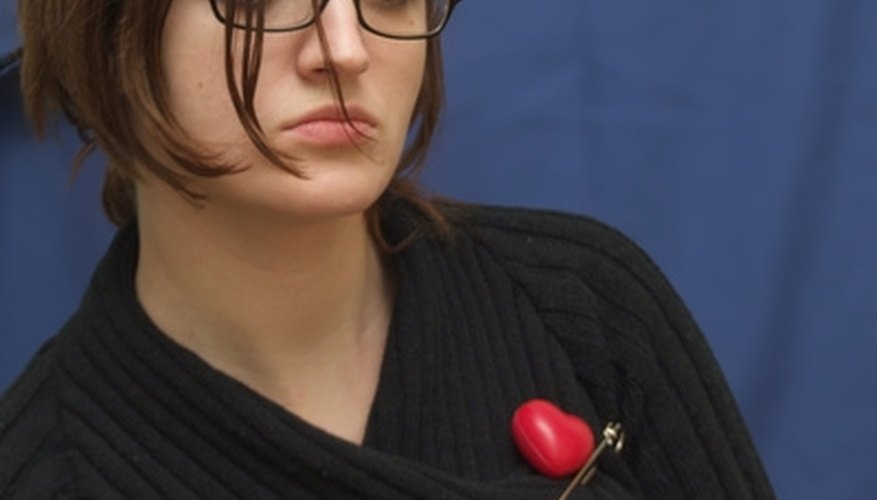 Whether it was six months of dating or a marriage spanning decades, breakups are almost always difficult for everyone involved. You spent a lot of time, energy and emotional resources forging a relationship with another person, but now all you created together is firmly in the past. Instead of focusing on the life you once had with your ex, create a new life for yourself, one that fulfills your personal and social needs in a way that your broken relationship no longer can.
Allow yourself time to adequately grieve for your lost relationship. While you want to move on and get a new life post-breakup, you'll have a better chance of finding happiness in your new life if you don't leave lingering issues unattended. Remember that emotions such as denial, anger, guilt and sadness are normal, but try not to dwell on negative feelings for too long.
Seek out your best, most supportive family members and friends. They'll help you get through the messy emotional stuff that immediately follows a breakup. Once you've completed your grieving process, ask them to include you on social outings. Getting back into the swing of things socially will distract you from dwelling on your grief and will give you the opportunity to seek out new friends.
Take care of yourself. Even if you're depressed, keep up with the necessities of day-to-day living: regular grooming, housekeeping and steady job performance will bolster your self-esteem and give you the courage to succeed in your new life.
Purchase a post-relationship totem. The advice book "It's a Breakup Not a Breakdown" by Lisa Steadman recommends buying something for yourself, if you have the income. Whether the object is practical or fanciful, you can use it as a symbol of your new life as well as a sign that you can now actualize your own wants and needs. For a small but regular emotional boost, put it in a place where you will use it or see it frequently.
Take up a new hobby. If there's a sport you've wanted to try, join a casual adult league. If you've always been curious about knitting, find a local knitting group. A new hobby helps you redefine your post-breakup self, distracts you from heartache and introduces you to new people. If you're able to join a hobby-related group, you'll also have a weekly or biweekly engagement to look forward to during rough times.
Accept dates when you feel ready. The advice book "After Your Divorce: Creating the Good Life on Your Own" by Cynthia MacGregor and Robert E. Alberti suggests that the right time for dating is whenever the idea of going out with a new person is more exciting than it is scary. Use the lessons you learned from your broken relationship to improve your chances at happiness with new potential mates.
View Singles Near You
Tip
Ignore phone calls, texts and emails from your ex unless they are about practical matters such as visitation for children or remaining mutual accounts. Even if your ex initiated the breakup and now seems contrite, do not return to the relationship unless the problems that caused the breakup are completely solved. If nothing has meaningfully changed, you can't expect a change in your relationship's outcome. Temporarily reuniting with your ex will only damage the new life you've forged for yourself and wreak havoc on your emotions once the union re-implodes. If you feel like you're about to cave, make a five to 10-point list of your ex's most egregious flaws. Revisit the list when you need strength and you'll remember why it's a good thing you're now flying solo.
Warnings
If you can't seem to shake a feeling of persistent sadness and you're having trouble coping and getting through simple, everyday tasks, enlist the help of a therapist to guide you through this difficult emotional time.

If children were a product of your now-defunct relationship, remember not to put them in the middle of your and your ex's conflicts and avoid bad-mouthing the other parent in front of them. According to the article "Life After Divorce: 3 Survival Strategies" from WebMD, talking trash about your ex or asking your children to take sides can have adverse psychological effects on your children.
Cite this Article
Choose Citation Style
Harder, Katherine. "How to Get a Life After a Breakup." Dating Tips - Match.com, https://datingtips.match.com/life-after-breakup-7851105.html. 27 April 2015.
Harder, Katherine. (2015, April 27). How to Get a Life After a Breakup. Dating Tips - Match.com. Retrieved from https://datingtips.match.com/life-after-breakup-7851105.html
Harder, Katherine. "How to Get a Life After a Breakup" last modified April 27, 2015. https://datingtips.match.com/life-after-breakup-7851105.html
Note: Depending on which text editor you're pasting into, you might have to add the italics to the site name.