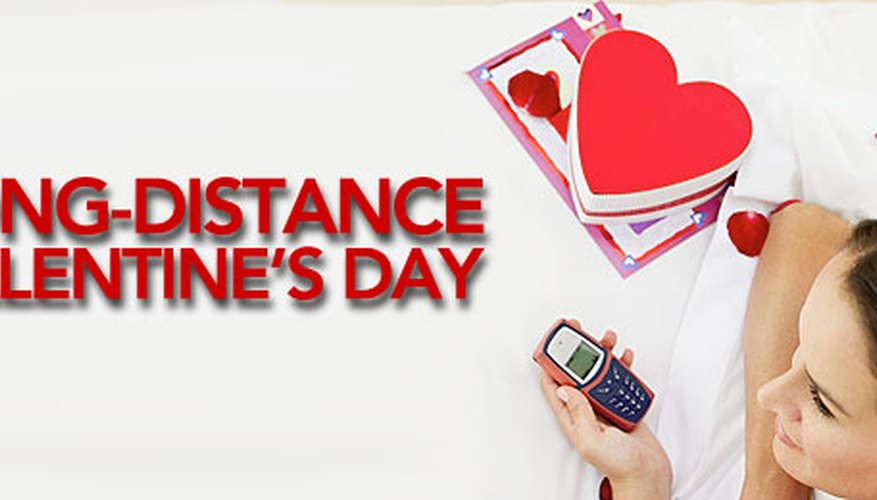 Whether you prefer going to a five-star restaurant or eating Chinese takeout in front of the TV together, Valentine's Day is all about spending time with your sweetie. But what if you're miles — or even an ocean — apart? Other than choosing to celebrate your day of love at a later date, you can still show some far-flung affection, whether you're traveling on business, trucking cross-country, actively deployed on military service, or otherwise disengaged. Here are 10 ideas for ways to express just how much you care — even when there's no way you can be there with the one you love.
1. Have a digital wake-up date
You can't have breakfast in bed with your honey, but he or she can still wake up to the sound of your voice or see your smiling face on the morning of February 14th. Simply ring up your honey with a hotel-worthy wake-up call, email a Valentine's e-card, post a message on his or her Facebook wall, write a blog post just for your beloved, or send a direct message on Twitter. Or, do some combination of the above to show that your feelings are always online, even when your sweetheart's not.
2. Send a special delivery
If you can't bring your love flowers, let someone else, right? But roses aren't your only option. Think about what other treats your date might appreciate by delivery: order your so-called "Dumpling" some dumplings from your favorite Thai place, a pizza decorated with a heart made out of pepperoni, or some red velvet cupcakes from the bakery up the block. Just be sure that your other half will be at work or home to receive them, or your big surprise could become messy and inedible.
3. Set up a scavenger hunt
If you're able to arrange a small, clue-driven scavenger hunt in your honey's home before the big day, he or she will appreciate the effort. Choose spots to hide your clues based on what your partner loves best (as in, a slip of paper wrapped around your sweetheart's favorite hot sauce, tucked inside the book he or she is currently reading, or behind the painting you bought together in Mexico). Finish the hunt with a small but meaningful gift, like a set of crosswords with one to complete for each day you're apart. Then, leave a "Do not open until Feb. 14th" card (or mail one) that leads your beloved to clue #1. It's a fun day and a meaningful gift all wrapped up in one!
4. Make a long-distance movie date
You don't talk to your honey during an actual movie date anyway (and, hey, if you do, shush!). So this time, plan to watch one concurrently on Valentine's Day. Seek out a movie you both want to see that begins as close to the same exact start time as possible in your respective towns. Then, call each other when the credits roll to talk about the movie as if you were watching it together all along. If there's nothing in the theater you're both interested in, rent one that's a mutual favorite and watch it at the same time — you can even sign into IM and chat together as you watch if it's more your style.
5. Text a romantic top 10 list
Spread the sweetness throughout the whole day by starting out with a Valentine's Day text on the morning of the 14th: "Today, I'll send you 10 things I like about you!" Then, send items on your list throughout the day, such as, "You always share your frozen yogurt with me" and "Your kiss still gives me chills." This proves that you really care and that it's for all the right, unique reasons. Plus, spreading out your gift over time will make your long-distance love feel special all day long.
6. Skype each other by candlelight
You can still have a romantic dinner face-to-face, even if you can't hold hands at the table. How? Pick a time for dinner, agree you'll both get a candle to light beside your computer, and either choose your own surprise meals ("I got a cheese steak, what are you eating?") or plan on eating the same type of meal, especially if it's something that you both find meaningful. Then sign into Skype and chow down together by the flickering glow. As far as intimacy (and your credit card!) goes, it may actually beat that quiet table in the corner of some garishly decorated restaurant.
7. Ship a V-Day care package
Mail your sweetie a boxed "care package" filled with small treats that show just how intimately you know your sweetie. For instance: a small pack of Band-Aids for the blisters your sweetheart always gets while hiking, some miniature marshmallows for hot chocolate, and a pack of paper clips because your true love can never, ever find one on a cluttered desk at the office. It shows you really pay attention and care enough to send lots of love, even if it's just the little things.
8. Serenade your sweetie by phone
Take advantage of the fact that you can't be there in person by expressing how you feel in a way you might never get the nerve to do face-to-face. Arrange a time to call and sing your Valentine a funny song or recite a funny, home-spun limerick you wrote just for the occasion — then pray it wasn't recorded for embarrassing posterity. If you can't find a mutual time to call and you're the brave type, leave it on your sweetie's voicemail. Depending on how well it's received, your message could get saved and replayed whenever your honey's feeling lonely… and what could be better than that?
9. Create a picture that's worth a thousand words
Take and send a photo of yourself (with your phone, via email or snail mail, if you're deployed somewhere remote) holding a short Valentine's message written on a big piece of paper. For instance, stand in front of a Denny's holding a sign that says, "It's no Grand Slam without you, baby!" or "It's cold here without you" while sitting on a chilly, snow-covered park bench. Extra credit: Write out a longer sentiment by taking photos of you holding a series of signs. Either method will seem more special and unique than texting, emailing, or even just saying the same thing on the phone ever would.
10. Host a surprise party for two online
Throw a virtual surprise party for just the two of you. Here's how: create an invitation through paperlesspost.com asking your partner to RSVP for, say, an 8 p.m. "party" on iChat on February 14th. When your valentine signs on, there you'll be, holding a cupcake from his or her favorite bakery, doing that dance that always makes your honey laugh, or wearing something you know makes you look and feel especially sexy and confident. For this party, your honey will feel like a V.I.P. even though you're physically M.I.A.
Amy Spencer writes for Glamour, Real Simple, and New York magazine, among other publications, and is the author of Meeting Your Half-Orange: An Utterly Upbeat Guide to Using Dating Optimism to Find Your Perfect Match.
View Singles Near You
References
Cite this Article
Choose Citation Style
Relationships, Match.com. "Long-Distance Valentine's Day." Dating Tips - Match.com, https://datingtips.match.com/longdistance-valentines-day-13392304.html. Accessed 02 June 2020.
Relationships, Match.com. (n.d.). Long-Distance Valentine's Day. Dating Tips - Match.com. Retrieved from https://datingtips.match.com/longdistance-valentines-day-13392304.html
Relationships, Match.com. "Long-Distance Valentine's Day" accessed June 02, 2020. https://datingtips.match.com/longdistance-valentines-day-13392304.html
Note: Depending on which text editor you're pasting into, you might have to add the italics to the site name.