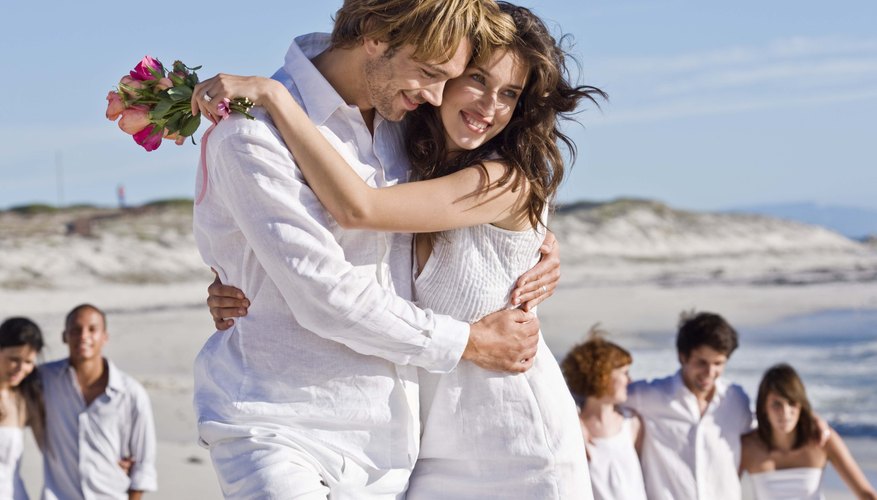 Cut and Color
Adding soft, well-cut layers to your long, fine hair can help to add volume and movement, creating the illusion of thicker locks. Layers should be blunt, starting around the collarbone, and rather random. Ask the hairdresser not to blend the layers smoothly to maximize volume and lift in your hair. Consider having a mixture of colors added to your hair. Color swells the hair somewhat, adding volume, while highlights and lowlights will add depth and the illusion of body.
Choosing a Style
If you want to wear your hair loose on your wedding day, you still have some decisions to make. Do you want to wear all of your hair down, wear half of it down, or add ornaments, clips or a veil? Wearing all of your hair loose may be a less formal look, and can be harder to maintain throughout the day and evening. A half-up can be more formal, accommodates accessories and may hold up better through the day. If you intend to use temporary extensions in your hair, a half-up style may allow you to add additional hair to boost the volume of your own while hiding the evidence.
Preparing the Hair
Whether you're wearing your hair down and loose or half-up for your wedding day, your stylist will begin by washing your hair with a volumizing shampoo. A volumizing mousse, spray or other product will help to increase the overall diameter of the hair shaft. Your stylist should dry your hair with a round brush to maximize lift before curling it with a curling iron or setting it on hot rollers. You can opt for soft waves or curls.
Final Styling
Once your curls are complete, the final styling of your fine hair will begin. Light teasing at the crown will add volume and hold throughout the day. If you've opted for a half-up style, it can be secured with combs or pins. A half-up will help to support and hold a veil or fascinator. The remainder of your hair will fall loose over your shoulders. You can also opt to place a fascinator or comb on one side. Your hair can then be worn loose over your shoulders or gathered softly over one shoulder.
View Singles Near You