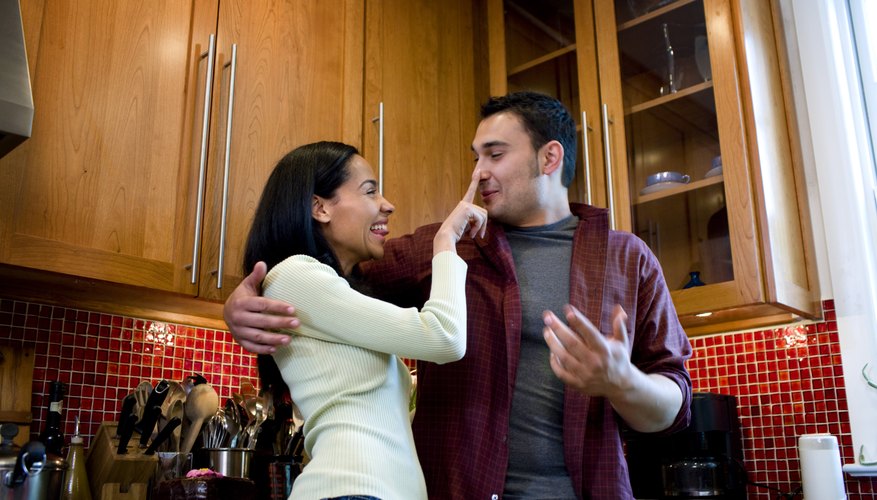 Food is a creative way to connect with your loved ones and decorating the kitchen in a romantic décor your food prep area can become a romantic retreat. Although you'll still have to chop, sauté and bake in order to put dinner on the table, romantic elements can make the experience a chance to relax and enjoy cooking with the special someone in your life.
Step 1
Paint the kitchen walls in a classic romantic color such as soft pink or lavender. Coordinate the color to match the color of the cabinets or treat cabinets in a coordinating stain or paint color. Avoid using colors that clash with one another to create a visually relaxing environment.
Step 2
Install soft lighting. Place recessed light fixtures in strategic locations to create ambient light and incorporate decorative wall sconces that give off a soft glow. Avoid harsh, fluorescent style lighting and incorporate candles in the eating area to create an intimate ambiance.
Step 3
Incorporate soft, delicate textures. Treat windows with sashes of gauzy, light fabric. Use dish towels that are plush and soft to the touch.
Step 4
Decorate with flowers. Select flowers that coordinate with the color scheme of your kitchen and the season. Choose dried flower arrangements or a lifelike bunch of faux flowers for an inexpensive, long-lasting option. Place vases on the table, bar or window sills.
Step 5
Install antique, Victorian-style faucets, cabinet handles and drawer pulls. Integrate ornately designed hardware to make the kitchen space feel romantic and out of the ordinary.
Step 6
Clean up the kitchen. Encourage romance by keeping reminders of common stress triggers or everyday messes out of sight. Store trash cans inside of a cabinet, put the dog food bowl away when feeding time is over and keep the kitchen sink clean. Tidy kitchens are more welcoming than those that are messy.
Things You Will Need

Paint
Candles
Flowers
Soft fabric
Dish towels
Cabinet handles
References
View Singles Near You