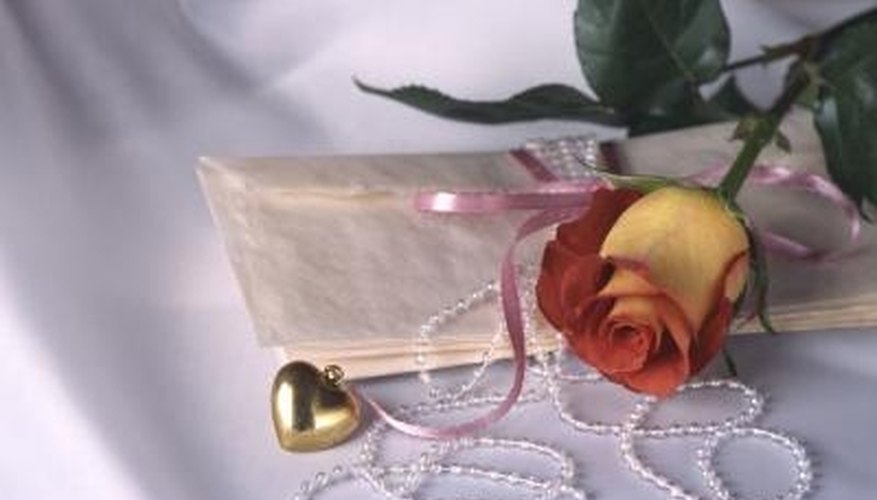 Go overboard with your diction. Be a little tongue-in-cheek by writing in your letter about all of the romantic things you would like to do with your significant other. Make sure to be so over-the-top with your words that he knows you are clearly being funny. Tell him that you want to kiss him in the rain or go horseback riding with him on a beach at sunset. Remark how you would like to meet him in Paris at midnight under the Eiffel Tower and simply stare into his eyes for hours.
Send your man a cease and desist order. Write a formal-sounding order for him to stop making you so crazy about him. Remind him in a formal tone of all the things that he does to make you want to be with him so badly. Not only will your irony make him laugh, but you will also be reminding him of all the things he does that you like, which means he will continue to do them.
Scribble a simple note -- keep it short and sweet -- that will make him laugh and remind him how great your relationship is at the same time. Remind him of a time when both of you cracked up together over something. Reliving the moment will make him laugh aloud, and it will reaffirm the good times that the two of you have had together.
Things You Will Need

Pen
Paper
Envelope
Tube of cherry red lipstick
Tip
No matter which route you take when writing your funny love letter, make sure you send it off with style. Tuck your masterpiece into an envelope and seal it with a kiss before delivering it to your man. You could also try putting the envelope in a place that might catch him off guard, such as by the bathroom sink or on the dashboard of his vehicle.
References
View Singles Near You