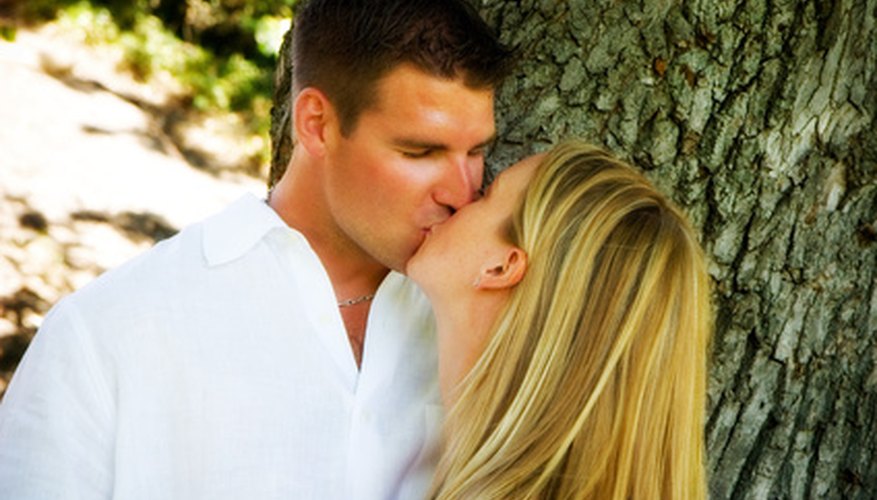 Step 1
Think about your manners. Nobody wants to kiss someone with bad breath. Cup your mouth with your hand and blow into it. If it smells bad to you, then chances are it smells horrible to the other person. Nothing ruins a makeout session like stinky breath. Always carry a minty pack of gum or some breath mints. Stay away from fruity flavors.
Step 2
Try to avoid foods that will give you bad breath. Garlic and onions should be on the do-not-eat list if there is a possibility of making out later. The same goes for food that can get stuck in your teeth. At least, remember to take a trip to the bathroom to look in the mirror for any food caught in your teeth. Even a pocket mirror or flip-down mirror in the car could be used to check for food in your teeth or on your face and lips.
Step 3
Don't rush the makeout session. Let it happen when the timing is right -- typically that is at the end of the date or at a romantic juncture along the way. The longer you wait, the more of a turn-on it is for your partner -- that is, if they expect to make out with you. Try not to force the makeout to happen, especially on the first date.
Step 4
Be respectful once you get to the makeout and keep your hands limited to arms, waist and neck. If they want you to go further they likely will tell you with their hands or come right out and tell you what they want. On a first date using your tongue while kissing and nibbling on their lip is a little much -- save that for later on in the relationship.
Step 5
Let the other person know if the way they are kissing you is a turn-off. Be polite and tell them how you would like to be kissed. Don't ask if you are doing a good job. Kiss with confidence, or at least act like you're not nervous. Hopefully, the other person will let you know if you're doing something wrong. It is important to express your feelings about the way the other person is kissing you, so that future makeouts are even better. If you like the way you are being kissed, it's OK to compliment them.
References
View Singles Near You