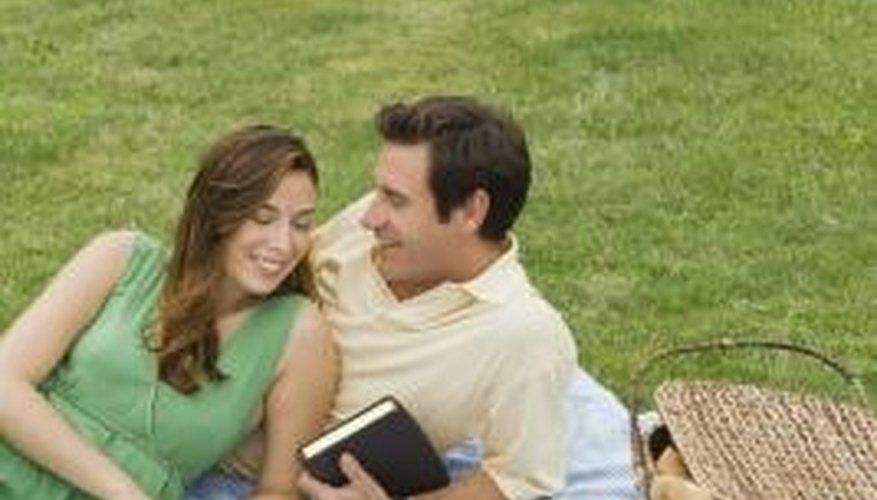 Prepare a picnic basket. A traditional wooden basket has a particularly romantic look. Fill the basket with food and the things you will need for a picnic, such as cups, plates, eating utensils and napkins.
Pick a romantic site for your picnic such as a beach with a stunning view of the water and backdrop; a riverside at sunset; or a garden-like setting surounded by nature. Or choose a place that holds special significance for the two of you such as near a fountain at your favorite park or the place where you proposed.
Surprise her with flowers. Flowers are a romantic gestures that are sure to put a smile on her face.
Spread out a blanket. While picnic tables also work, sharing a picnic on a blanket adds a more intimate flavor.
Light candles if it's a late afternoon or early evening affair. The warm glow of candles helps to establish a romantic ambiance. Be sure to set them in spots where they won't be easily knocked over.
Break out some impressive food. For a romantic picnic, plan a menu that boasts simple, yet elegant food. Platters of fresh fruit, cheeses and crackers are perfect for sharing. Gourmet sandwiches, made from ingredients like prosciutto and arugula or mozzarella and pesto, are a step up from peanut butter and jelly and enhance the romantic tone.
Pour some wine. Wine, whether it's red, white or sparkling, adds to the romance of the picnic.
Enjoy each other's company. The most romantic part of the picnic is the the time you spend together.
Things You Will Need

Blanket
Picnic basket
Plates
Cups
Silverware
Corkscrew or bottle opener
View Singles Near You