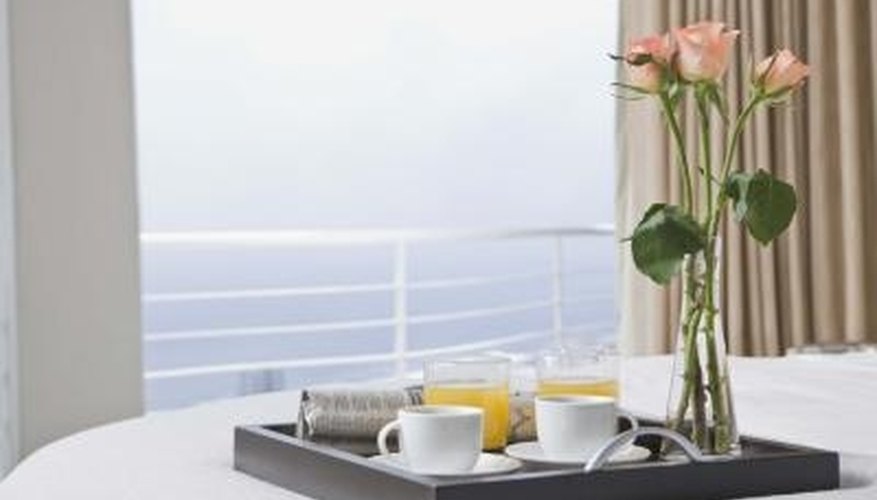 Determine which flowers you prefer to use. Roses in various colors are a common romantic flower option, but you can use any flower you prefer. As an alternative to roses, consider something like lilies, peonies or orchards. Select one main flower that is either a large flower or has a long stem. You should also select some filler options. Baby's breath is common filler for roses, but you can use any preferred filler flower as long as it is shorter and does not overshadow the main flower.
Fill a vase with water. The simple and classic vase is both romantic and easy to arrange when compared to other options. You can select a glass vase to show the stems of the flower or a vase that you can't see through if you prefer to hide the stems.
Cut the ends of the flowers if they are not already cut at a 45-degree angle. In general, any flower purchased from a shop is already cut for arranging.
Place the main flowers into the vase first. Determine where you want your main flowers and hold them in place with one hand or have a helper hold them in place. Put filler flowers or accentuating flowers around the main flowers so they fall slightly lower than the main flowers. If you prefer to add some leaves, fill them in at the bottom of the vase so they appear to spill over the vase.
Adjust the flowers until they suit your preferences for the basic appearance. Tweak and adjust the angles of the flowers until you are satisfied with the appearance.
Tie a ribbon around the vase and make a bow. The ribbon is not necessary, but if the vase is plain it can add to the appearance. If you think the ribbon does not suit the vase or arrangement, leave it off.
Place the flowers where you prefer, such as on a table as a centerpiece. If you have extra flowers, pull off the petals and sprinkle them around the vase for a romantic touch. Alternatively, lay some filler flowers around the bottom of the vase.
Things You Will Need

Flowers
Filler
Vase
Scissors
Ribbon
View Singles Near You