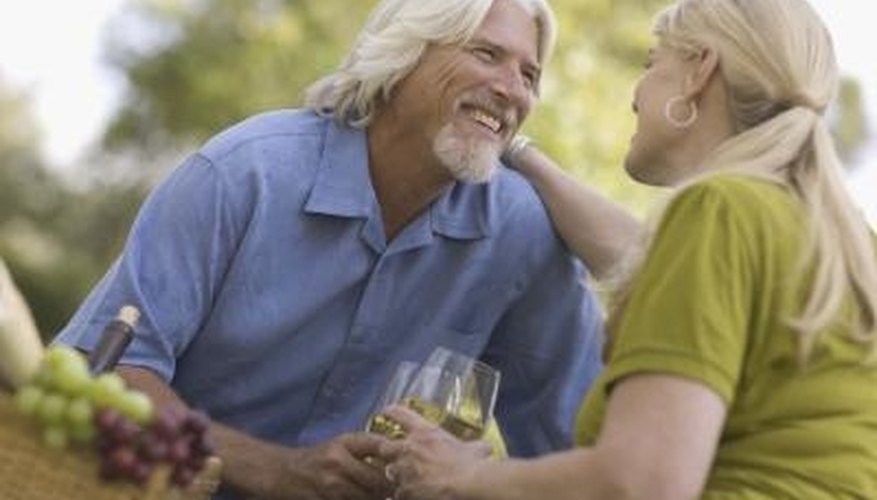 Fill a picnic basket with finger food that is easy to eat and not too messy. Make sandwiches with different fillings. Include apples, pears, strawberries, peaches, melons and grapes. Add sausages, pates, sliced meats, cheeses, dips (such as Dijon mustard, horseradish sauce, mayonnaise or pate) and a fresh-baked baguette of French bread. Take a box of chocolates for dessert.
Add a bottle of chilled champagne or wine in a wine tote, or sparkling flavored water as an alcohol-free alternative.
Pack drink glasses, plastic plates, a bread knife and spreader, wine opener and paper napkins. Take a picnic throw rug and blankets.
Create a CD or MP3 playlist of romantic music, including songs that are particularly memorable to you and your loved one. Take a portable CD or MP3 player. Take a rose and fat candles.
Take your loved one to a romantic location, such as a secluded beach or a quiet corner of a park. Think creatively; choose a spot with a view of your town's skyline so that you can watch the sun set together.
Place the picnic throw rug on the ground and lay out your food. Pour your partner a drink and give her the rose. Play your romantic music and relax together. If you are still there when the sun goes down, light the candles and keep warm under the blankets.
Things You Will Need

Picnic basket
Finger food
Chocolates
Champagne, wine or sparkling flavored water
Drink glasses
Plastic plates
Bread knife
Spreader
Wine opener
Paper napkins
Picnic throw rug
Blankets
Portable CD or MP3 player
Rose
Candles
View Singles Near You