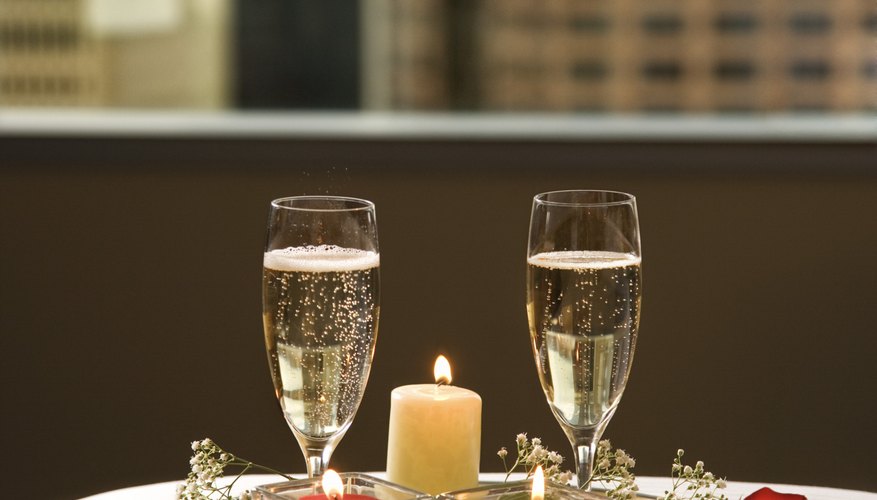 Step 1
Put away all clutter. This includes magazines, mail, car keys and other items that provide unromantic visual distractions.
Step 2
Place extra satin pillows on the bed or other furniture. If you do not have satin pillows, use the softest, nicest pillows you own.
Step 3
Set candles in candle holders on the nightstand or other sturdy, flat surfaces. Place a lighter or matches nearby so that you can light them when you are ready.
Step 4
Place a few drops of essential oil in a bowl. Romantic oils include sandalwood and jasmine, but use whichever scent you enjoy the most.
Step 5
Pick romantic, soft music and set a stereo or other music device in the room to play it quietly.
Step 6
Put a vase or two in the room, and add a long-stem red or pink rose to it. In the bedroom, place the roses on the nightstand or dresser. In other rooms, place the roses on a coffee table or end table.
Step 7
Drape soft red or burgundy throws over chairs and other furniture. This gives the room extra romantic warmth.
Things You Will Need

Satin pillows
Candles
Lighter
Matches
Essential oil
Bowl
Classical music
Stereo or any device that plays music
Vase
Red or pink rose
Red or burgundy throws
View Singles Near You