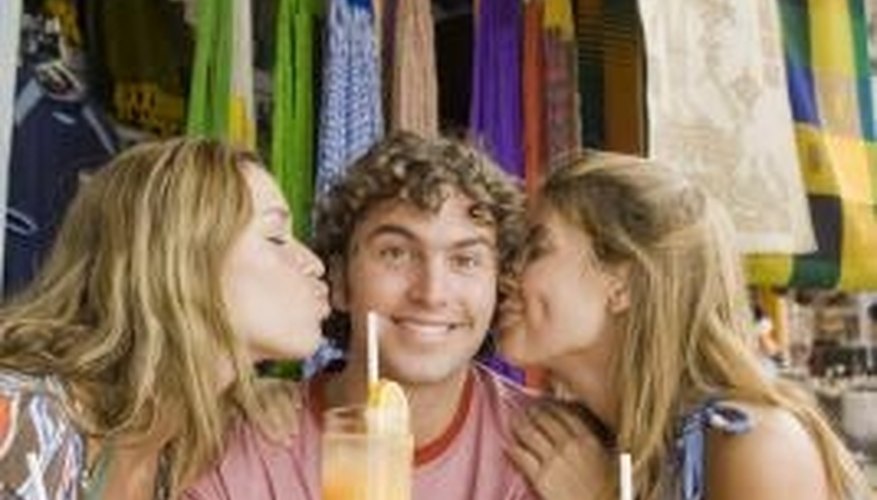 Confidence
One way in which to seriously amp up your appeal to the fairer sex is by emitting some good, old-fashioned confidence. Do not second-guess or doubt yourself. Stand up straight and exercise proper posture. Do not be afraid to look a woman in the eye for an extended period of time. Behave in a laid-back and relaxed manner. Just be sure to not take the confidence too far, as you don't want to risk appearing conceited, either!
Be Interested
Showing interest in what a woman has to say is a sure-fire flirting tip. Ask a lot of questions about her likes, dislikes, aspirations, career, friends and family. Be engaged in the conversation and keep its flow going. Show that you are a good listener and make her feel special, as if she is the only woman on the planet to you.
Teasing
Teasing is a playful, youthful and lighthearted way in which to flirt with a woman. Make a quick joke about her clumsiness if she spills her drink on the table by accident. Just be sure to walk the fine line and not hurt her feelings. Keep the teasing casual and be sure not to hit a nerve. For example, avoid making any teasing comments about her outfit.
Compliments
In the flirting world, flattery will get you really far. Be authentic and honest with your compliments, and also be sure not to say anything seedy. Compliment her on her way with words, her eye for fashion, her impressive vocabulary or her long eyelashes. Make a point of letting her know that you sincerely mean what you are saying by looking her directly in the eye as you compliment her.
Physical Contact
Some light and harmless physical contact can send a strong flirting signal to women. For instance, while talking to a woman, lightly tap her arm or hand. However, this can be tricky as you do not want to offend the woman. Be sure to exercise your best judgment before doing so. If she acts pleased by the contact, then you are in a good position.
View Singles Near You