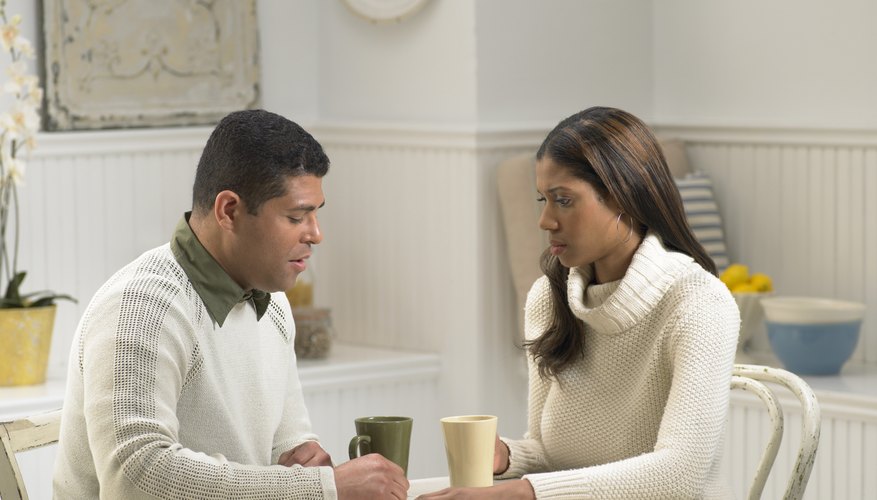 Determine Your Arguing Style
People don't all argue in the same way. Some raise their voices while others become silent. Some want to talk immediately while others prefer to wait. Think about the type of arguer you are and how your partner reacts during a disagreement. Does she need time and space? Does she prefer to write out her feelings in a letter? You may be able to resolve your conflicts more easily if you pay attention to arguing styles and find a balance between your two approaches. For example, if your partner tends to yell when you address an issue right away, try waiting a few hours or even a day until you both feel calmer.
Learn to Communicate Effectively
When you and your partner are ready to talk about a problem, effective communication is key. According to John M. Grohol, Psy.D. in his PsychCentral article "9 Steps to Better Communication Today," "The most popular myth about communication in relationships is that since you talk to your partner, you're automatically communicating." While talking to your partner is a form of communicating, the way you talk is critical. Are you talking at him or with him? Are you being clear and saying what you actually mean? Are you giving her an opportunity to respond? Grohol suggests listening carefully, being open and honest and reading body language.
Relieve Stress
Conflict can arise in relationships when people are overwhelmed or stressed by other problems in their lives. For instance, a person who is facing difficulties at work may feel more anxious than usual and may be more on edge with his romantic partner. A person whose mother is ill or who hasn't been getting enough sleep may feel more irritable and may overreact to minor issues. Anxiety can lead to a variety of arguments, but stress relief can help you control your emotions. Stretching, walking, swimming or dancing are some activities that can bring a sense of peace and balance to your life. MayoClinic also suggests finding ways to laugh and connecting with people socially.
Staying in the Moment
In the article "5 Steps for Being Present," Michael J. Formica, MS, MA, EdM, author of Enlightened Living, explains that most of us spend our time in the past or the future rather than in the present moment. Constantly remembering the past is futile because it can't be changed. We can't always influence what will happen in the future either. Staying in the present will help prevent arguments with your loved one about issues beyond your control. Formica recommends taking deep breaths, focusing on what you're doing and what is happening right now and letting things go.
View Singles Near You