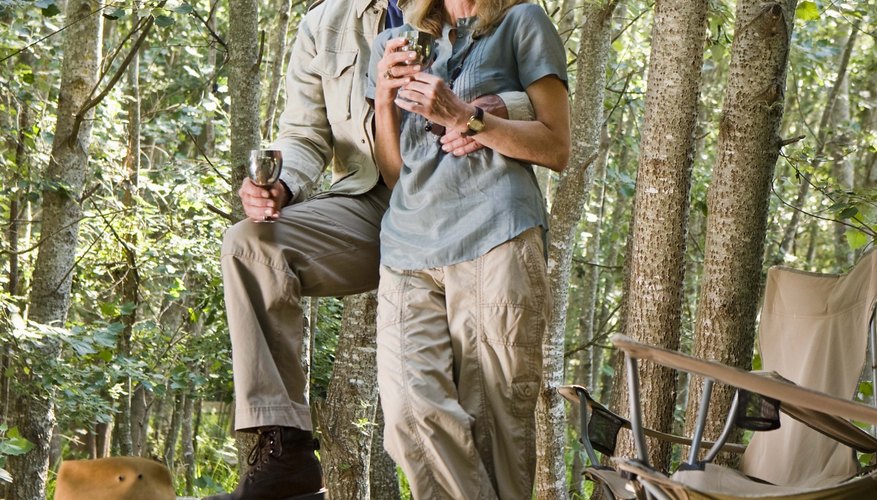 Honeymoon All Over Again
One way to ignite romance back into your marriage is to visit the one place that you vacationed and celebrated as the new Mr. and Mrs. Go back to the place where your love was new and exciting. Rekindle those special memories and moments. While on your second honeymoon, have a secluded dinner for two in your room together by candlelight and take a walk holding hands under the moonlight. Revisit some of the goals and dreams you shared together during your original honeymoon.
Recommitment Ceremony
Plan a recommitment ceremony in remembrance of the years you've spent together and to celebrate the years to come. You can choose to have the ceremony at the place you first met, a restaurant where you had your first date or where you were married. Make the event as grand or as intimate as you would like. Invite your closest friends and family to witness the event. Dress as formal or as casual as you like. Exchange your own written vows or promises to each other. Be as creative; there are no written rules on renewing your wedding vows.
Cruise
Plan a romantic trip for two aboard a cruise ship. Take advantage of all the amenities that the ship has to offer. Schedule a couples' massage in your room or at the spa. If you're celebrating your marriage anniversary, let the travel agent know at the time of your reservation. Many cruise line offer little perks for couples celebrating special events such as this. Otherwise, for a fee you can request to have chocolate dipped strawberries, flowers and champagne delivered to your room upon your arrival. Order room service the first night aboard to have quiet time alone. Instead of joining larger groups for excursions, reserve intimate excursions for just the two of you so you can spend time alone.
Balloon Ride
Schedule a romantic sunset balloon ride with a local company. Many companies offer packages that can enhance your balloon ride experience. Options may include champagne, light appetizers and roses. If you have a special message you want to share with your spouse, you can request a special banner to be made delivering your special message.
View Singles Near You