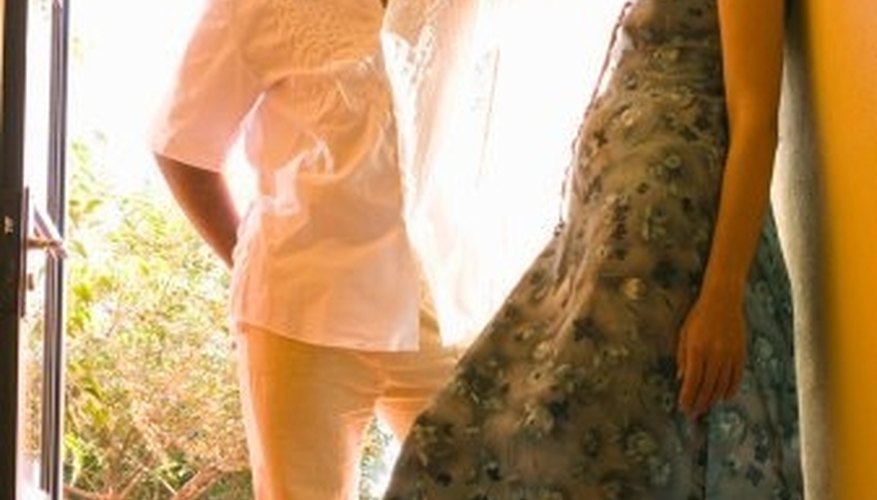 Identification
Your body language and conversation skills give you all the tools to flirt successfully. Examples of flirting include licking your bottom lip, crossing your legs or stroking your hair. It all depends on your goal when you flirt with someone of interest to you, otherwise known as your target. Do you see your target as potential boyfriend material, or is he just a one-night stand? Flirting is the first step that you take in a potential relationship.
Function
There are many reasons why people flirt. One of these is to show your target that you are interested in getting to know them better. This type of behavior may be stopped at any time by either person. Flirting is used as an instrument to measure how much interest the other person has in us. Flirting can also be used to make a current lover jealous. When we feel that our relationship is growing stale, we flirt in front of our lover. The goal here is to show our boyfriend that we are still wanted and desirable by other potential mates.
Effects
If you know how to be a great flirt, it has the potential to raise your self esteem. Knowing that you are attractive to others makes us feel good inside. When we flirt with someone and they flirt back, our confidence increases. It also gives us courage the next time that we find someone that we would like to date. It can also be a harmless activity that helps us to pass the time.
Considerations
Knowing how to flirt properly is the key to being in a romantic relationship. Without flirting, there isn't a way to show someone that you are interested. When done properly, it is almost magical. When the initiator doesn't know what they are doing, it appears clumsy and makes their target feel uncomfortable. Worse yet, he may come across as being rude and pushy. Too much flirting can feel overbearing; too little flirting, and you may not be sending your crush enough signals that you want to get to know them better.
Warning
Flirting can be a fun way to make someone feel good, but it also has the potential to damage an existing relationship. Many couples complain that their significant other flirts in front of them. This is disrespectful to the relationship. She may feel insecure and that you don't care about her feelings. While your goal may be to spice up your relationship, it could backfire. You may be heading for a breakup.
View Singles Near You