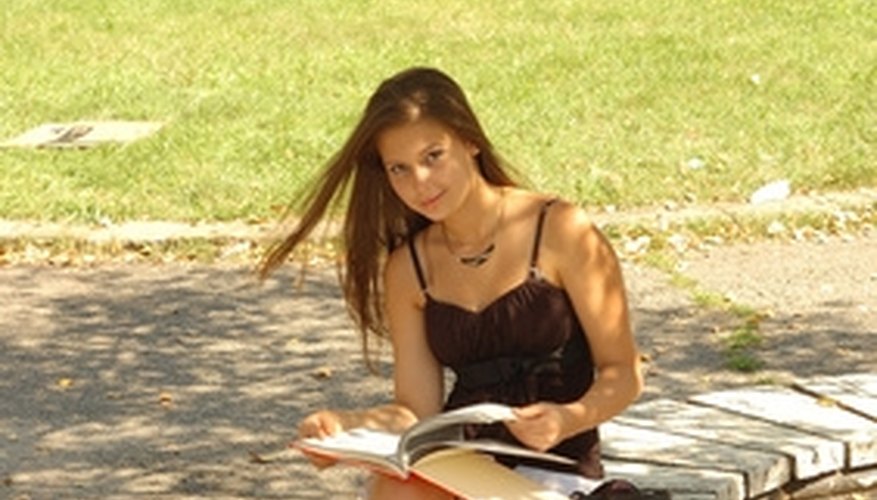 Hang out outside. Most college or university campuses have a quad or a lawn -- or both -- and it is always guaranteed to be packed with guys playing sports, hanging out with their friends, playing the guitar or studying. Try studying or reading out in the open instead of in your dorm room. Throwing a flirty glance or smile is an easy way to give a guy the signal to come over and talk to you.
If you have a subject or two at which you excel, sign up to be a tutor. Many guys on campus need help studying and you will find yourself in intimate one-on-one study sessions where you can help him learn while getting to know him. If there is a cute guy in your class who seems to be struggling, offer to help him catch up at a coffee shop or in the library after class. Take precautions, such as meeting for study sessions in public places, where there are other students or people around.
Spend extra time in the laundry room. The laundry room is perhaps one of the most forgotten about, yet opportunistic, places to meet a guy in college. But the fact is that laundry has to be done -- and guys have laundry too. Spending more time in the laundry room at college is an easy way to meet all types of guys, from jocks washing their uniforms to cute musicians getting the smell out of their concert T-shirts. Use caution, though, and do not be in the laundry room alone. Take a friend along with you if the laundry room is secluded or there are not many people around.
Be confident in yourself on campus. The No. 1 thing that attracts guys, no matter where they are from, is confidence. Guys can sense a confident woman a mile away, and you will be surprised how much walking around with your head up, shoulders back and a smile on your face will get them talking to you. If you have a hard time feeling confident, start your day by listing five things you like about yourself, and it will give you that extra pep in your step.
Get involved on campus by joining clubs, associations, groups and even sports teams. If you are looking for someone to read poetry with, join a literature group. If you want a guy who can double as your jogging buddy, join the track team. Joining associations and clubs that interest you will help you meet guys who share those interests.
View Singles Near You